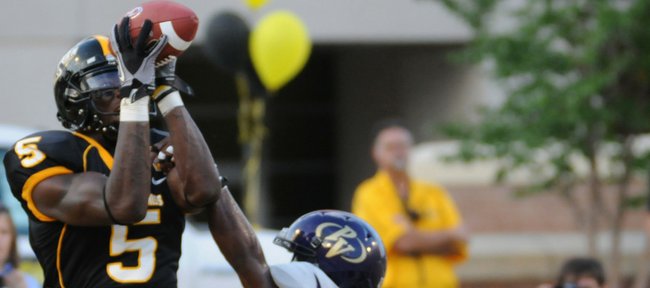 In junior wide receiver DeAndre Brown, the Southern Miss football team entered the 2010 season with a known commodity on offense, one of the best individual weapons in the nation.
However, plugging four new starters into an offensive line blitzed by graduation left the Eagles wondering if junior quarterback Austin Davis would have enough time to get Brown the ball.
Through two games, Southern Miss has provided a couple of different answers.
In the opener — a 41-13 loss to No. 13 South Carolina — the Eagles were roughed up in every sense of the word. The defense was torched for 449 yards, and Brown, who logged 1,902 yards and 21 TDs on 114 catches in his first two seasons, managed just four catches for 65 yards, including a meaningless touchdown late.
Last week, USM bounced back for a 34-7 victory against Prairie View. Leading the charge was Brown, who caught five balls for 100 yards and a TD.
"I thought he responded very well, and I expected him to," Southern Miss coach Larry Fedora said. "He played harder, made plays, was blocking and getting after people. He played the game the way he can play the game."
So, too, did Southern Miss, which features an up-tempo offense and combines it with a hard-hitting, fast-moving defense. Though he said it was difficult to say exactly which Kansas team would show up at 7 tonight at Carlisle-Faulkner Field in Hattiesburg, Miss., Fedora said the familiarity of playing a team with a similar look to his own club's should help the Eagles.
"Coach (Todd) Bradford (USM defensive coordinator) said it is like looking at us on film," Fedora said of the KU offense. "Obviously, there are a lot of things that they are doing that we do, and we will do a lot of things that they do, so we will have to see who executes well."
Last year, during a 35-28 victory on Sept. 26 in Lawrence, that was the Jayhawks, who jumped out to an early lead and then staved off a late Southern Miss rally to move to 4-0 on the year.
Fedora still feels the sting of that one and plans to use it to motivate his squad for this week's rematch.
"Last year at Kansas we did not finish the game, and that was the key," said Fedora, who owns a 14-12 record in two seasons at USM. "We just did not finish it in the fourth quarter when we had a chance to win the football game. We will definitely talk about that and make sure that we play the full game."
KU coach Turner Gill watched the game film of that one when he arrived at Kansas in an effort to evaluate the talent he had on his new team. What he saw was a freak athlete in Brown and a Kansas defense that did a good job of limiting Brown's impact.
"Obviously he's just a guy who's a great physical specimen," Gill said of Brown. "They're definitely going to throw the ball down the field quite a bit throughout the game."
Gill cautioned against focusing too much on Brown, though.
"He is a guy who makes plays, but they do have other weapons," he said.
That includes Southern Miss' four-headed monster at running back, Kendrick Hardy (20 carries for 92 yards), V.J. Floyd (17-86), Desmond Johnson (17-70) and Jeremy Hester (4-19), who lead the USM rushing attack and give Fedora options.
"We are going with the theory that we are going to need all four of these guys this season," Fedora said. "And we don't want to run into what we did the last couple of years so we are playing a lot of guys right now."
Despite all of the tough match-ups Southern Miss presents on both sides of the ball, it's not just identifying the hot back or containing Brown that will be a challenge for Gill's Jayhawks.
"It's a pretty rowdy place," Gill said of the venue they call "The Rock." "I've been there once before (for) a Thursday night game (in 2003 while coaching at Nebraska), so I know it's a loud place, and they get enthusiastic about their football."
More like this story on KUsports.com