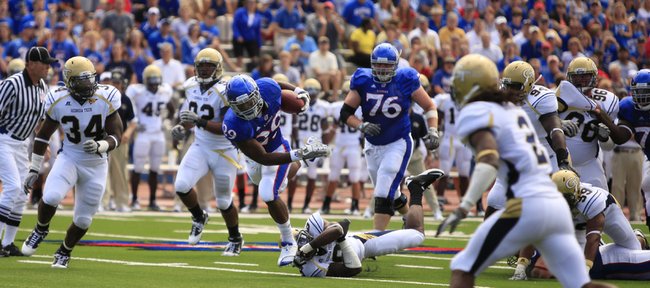 Gale Sayers left Kansas University with 11 100-yard games on his resume.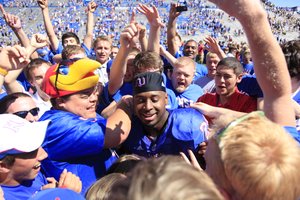 Reader poll
1

1%

19 votes

2

1%

15 votes

3

5%

64 votes

4

17%

225 votes

5

25%

325 votes

6

27%

348 votes

7

15%

194 votes

8 or more

5%

74 votes
1264 total votes.
June Henley finished tied for second all-time with 13 100-yard days.
Tony Sands had a program-best 17 such outings before he was done, and John Riggins produced seven.
None of them achieved the feat in his first game as a Jayhawk, though.
Not the Kansas Comet. Not Riggo. Not Tuxedo Tony. Nope. Just Jukin' James Sims, the fab freshman with the high-top fade.
Sims, 6-foot, 206 pounds from Irving, Texas, made history Saturday by rushing for 101 yards and a touchdown in KU's 28-25 victory against No. 15 Georgia Tech. He became the first freshman to crack the century mark in his debut and, in doing so, breathed life into a rushing attack previously on life support.
"The first thing was, he took care of the football," KU coach Turner Gill said. "And he ran with some energy. I think you saw that reflected (in) the rest of our football team."
After his fourth carry of the first half, Sims went to the sideline to fix an equipment malfunction. When he arrived, there waiting for him — beyond all the high-fives and head slaps — was the player who, in 2009, became the first KU freshman to rush for 100 yards in a game since 2002 — sophomore Toben Opurum.
While Sims was waiting for his cleats to be repaired, Opurum put his arm around the freshman and offered some advice.
"Knowing the guys believe in me and know that I can get the job done means a lot to me," Sims said. "It just makes me want to work even harder. Toben just said, 'Keep working hard,' just continue to do what I'm doing."
Good advice.
From that point on, Sims was a monster. He had a 26-yard gain on one play, leapt over a defender on another — on a move reminiscent of his favorite NFL back, Reggie Bush — and, early in the third quarter, buzzed between the tackles three straight times en route to his first career touchdown, which gave Kansas a 21-17 lead.
"Obviously, he showed some athletic ability, too," Gill said. "He wasn't just a power runner."
Deemed not quite ready to play in KU's season-opening setback against North Dakota State, Sims either got ready in a hurry or was there all along.
Either way, after spending four quarters wondering if he'd get on the field against NDSU, Sims spent six days knowing he would play against Georgia Tech. Asked if he was better prepared for his first game because he knew he was going to get in, Sims said the knowledge helped.
"It did, but regardless of if I was going to play or not, I was still going to work hard," he said.
Until Saturday, Sims was known by most as a promising back from Texas with a wild hair-do. Now, campus bookstores are taking orders for No. 29 jerseys, and the future of the KU running game looks very promising.
"(Saturday) just (gave me) more confidence in myself, knowing that I can get the job done against a team like that," Sims said. "We'll have a bright future. We'll just build on this game, continue to work harder and get to the Big 12 championship."
Webb to start
There will be no quarterback controversy this week. Red-shirt freshman Jordan Webb, 18-of-29 for 179 yards and three touchdowns in his first career start, earned an encore.
"I can definitely say Jordan Webb's going to be the starting quarterback," Gill said of Friday's game at Southern Miss.
Steward sidelined
Gill said Sunday night that sophomore tight end A.J. Steward would miss this week's game at Southern Miss because of a shoulder injury. Steward injured his right shoulder in Saturday's victory and went to the locker room amid the celebration with his arm in a sling. Gill said he'd know more about the timetable for Steward's return Tuesday.
More like this story on KUsports.com