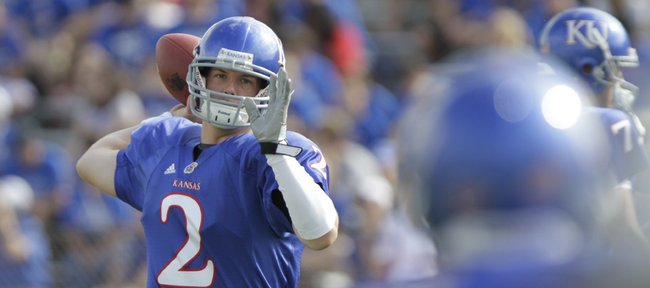 Georgia Tech quarterback Joshua Nesbitt knew from the opening snap that his No. 15-ranked Yellow Jackets were in for a battle Saturday at Memorial Stadium.
"They were mad," the Heisman Trophy hopeful said of the Jayhawks, who, stinging from last week's season-opening loss to North Dakota State, stunned the visitors from the Atlantic Coast Conference, 28-25.
"You could tell they came out mad from losing their last game, and they came out hungry," added senior option-QB Nesbitt, who rushed for just 33 yards off 15 net carries, including touchdown runs of nine and four yards.
Nesbitt also threw for a 40-yard score to sophomore Stephen Hill on a day he connected on five of 15 passes for 116 yards.
"We didn't get the option game going," Nesbitt said, citing a tangible reason for the crushing defeat. "They (KU defenders) were being blocked and getting to the ball."
Senior center Sean Bedford also cited fire in the Jayhawks' eyes as a major factor in KU's defeating a program that has reached a bowl game 13 years in a row.
"That's as inspired a team as I've seen in my five years here now," he said. "We knew coming in this was a team that didn't play up to what they are capable of last week and would be fired up and ready to go, and if we gave them an inch they'd take a mile, and that's what happened today."
Of course, emotion goes both ways. The Yellow Jackets (1-1) don't believe they matched the Jayhawks' intensity.
"I've got to do a better job getting our guys ready to play. Clearly they think it's a walk in the park sometimes," said third-year Georgia Tech coach Paul Johnson, whose team entered 10-1 in games decided by five points or less, including a streak of nine victories in a row.
"I thought their kids played hard. They made some plays, and we didn't make any plays. No. 15 (Daymond Patterson, seven catches, 85 yards, TD) made some unbelievable plays.
"There were a lot of missed tackles," Johnson added. "We didn't have a lot of guys getting off blocks, but we should have scored more than 28 anyway. Nobody played good enough to win (on Tech's side)."
Senior running back Anthony Allen (11 carries, 89 yards) said the Yellow Jackets, "came out flat. We weren't as hyped. We weren't as ready as we were supposed to be."
That's puzzling, because in his words: "We knew their backs were against the wall, and they were going to come out fighting. That's what they did. All the players at Kansas gave us a good game, but we beat ourselves this week."
Georgia Tech, which trailed, 28-17, with 14:19 left, scored a touchdown and two–point conversion at 7:48 and in the final minutes faced a fourth-and-three from the KU 35.
A false start made it fourth-and-eight at the 40.
"I guess we were a little excited, but on that last play, it was all me," Nesbitt said.
He blamed himself for failing to connect with Hill on a fourth-down pass play with one minute remaining, Tech's final offensive play of the game.
"It was just a miss by me," Nesbitt said.
Tech gained 407 yards to KU's 320. The Jayhawks passed for 179 yards while rushing for 141.
"That they could rush? Yes, a little bit, but they ran the ball well," coach Johnson said, asked if he was surprised by KU's productive ground game.
Freshman James Sims had 101 yards off 17 carries and a TD. "It was mostly draws. They did a good job protecting the quarterback. We didn't get much pressure on the passer," Johnson said.
"You've got to give Kansas credit. They played hard. I'm not going to take anything away from them."
More like this story on KUsports.com