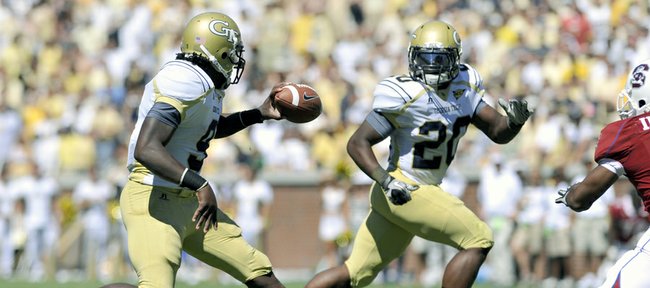 Others may be given credit for inventing the option offense, but Georgia Tech football coach Paul Johnson certainly has had a hand in perfecting it.
"He's been running that type of offense for many, many years," Kansas University defensive coordinator Carl Torbush said of Johnson. "Whether it's the true wishbone or a spread option or a double slot or whatever you'll call it, it goes back to having wishbone principles, and he knows how to make it operate."
Those curious to see the precision option game run the way few teams can run it should find a cozy spot at Memorial Stadium at 11 today when Kansas University's football team, reeling from its season-opening loss to North Dakota State, plays host to No. 15 Georgia Tech.
In last week's opener, the Yellow Jackets logged eye-popping offensive totals. Fifty-six carries. Three-hundred-seventy-two rushing yards. Eight passing yards.
The result? A 41-10 trouncing of a South Carolina State team that Torbush said had incredible athletes.
Johnson's version of the option — which is dubbed such because it employs a mobile quarterback who reads the defense while attacking with his legs — dates back to his early days in coaching.
"We've run some (different) stages of it, but we started running this offense in 1985 at Georgia Southern," Johnson said. "I thought it gave us a chance to win games. We managed to (do that), and that's why we kept doing it. It's like anything else, if you execute, it's gonna be good, if you don't, it won't."
In reality, GT's option attack is unlike anything else. Instead of playing with three wideouts, a quarterback, a running back and a tight end, Johnson uses three running backs, two receivers and a QB. Two of the three backs are known as A-backs, who function as slot backs, and the third is known as a B-back, which appears to be a fullback but tends to receive the lion's share of the carries.
In Georgia Tech's case, B-back Anthony Allen and quarterback Joshua Nesbitt are the two guys who make the offense go. Last week, SCSU keyed on Allen. The gameplan worked, as the senior from Tampa gained just 28 yards on six carries, but certainly did not stop the rest of Tech's attack.
"What we're going to try to do is move the ball," Johnson said. "If you go back and look, (former GT running back) John Dwyer (now with the Pittsburgh Steelers) had plenty of games (in 2009) where he didn't gain 30 or 40 yards in the game. The big problem would be if they took somebody out of the game and they stopped you otherwise. But we had 370 yards rushing."
The reason comes from the way the offense is designed.
"We just have a lot of threats on (every) play," Nesbitt said. "I can hand it off, run it or pitch it, and it just gives us a lot of options to run the ball."
Few coaching staffs in America know the ins and outs of the option as well as KU's. Head coach Turner Gill ran it to perfection for three years at Nebraska in the early 1980s. Defensive coordinator Carl Torbush has seen it a ton and even coached against it last season when he was at Mississippi State — against this very Georgia Tech team, no less — and cornerbacks coach Vic Shealy spent time at Air Force, where the Falcons made a similar attack their ticket to national relevance.
Though the specifics of the option offense vary from team to team, Gill said the principles remain the same.
"It's very similar in that you're going to run that play over and over again," Gill said. "The option game is what I've been around. We didn't run the triple option as much as (Georgia Tech does). That's their main aspect of it. We did more the double option as far as the two reads. We didn't do a whole lot with the fullback."
Regardless of the set, the idea is the same — the offense entices the defense to show its hand before it commits to one player to run the ball.
Nesbitt, who knows the offense as well as anybody, said he's glad he's on the side that has the ball. Asked what position he'd least like to play if he were on a defense assigned to stop the option, Nesbitt hesitated and then committed, much the way he does when running the offense.
"That's kind of hard to say because it's hard from a defensive standpoint, period," he said. "I would probably say safety. You have to notice the play, you have to identify if it's a run or a pass, and then you have to find the ball. I would say (safeties) have the hardest job."
For Kansas, that could spell trouble considering the fact that three of the team's top four safeties have limited gameday experience. Still, true freshman Keeston Terry, who moved up to second string free safety on this week's depth chart, believes that stopping the option is as simple as staying disciplined in one's assignments.
"I've seen it a couple times in high school, but not much," Terry said. "We gotta make open-field tackles and (focus on) our pitch keys as far as the quarterback and the running back. That's probably the biggest thing. You mess that up and they're going 50 yards down the field."
Added Torbush: "You've gotta stop the dive, No. 1. If you don't stop the dive, they'll never get out to the second two phases. You have to stop the running game or you've got no chance. You're not going to stop it play after play, but you've got to make sure you keep it to minimum gains when they make gains."
As for Johnson, he likes that his quirky offense has caused coordinators to spend so much time studying ways to stop it, and he insists that even he doesn't have the answer.
"There's no magic defense against it," he said. "It's like anything else. We've been doing it for 25 years, (and) we've managed to win a few games. It's just like any offense. If you execute it well, you'll be fine. Everybody's gotta do what they think they gotta do. I'm not trying to tell anybody they gotta run this offense. I hope nobody does. That makes it better for us."