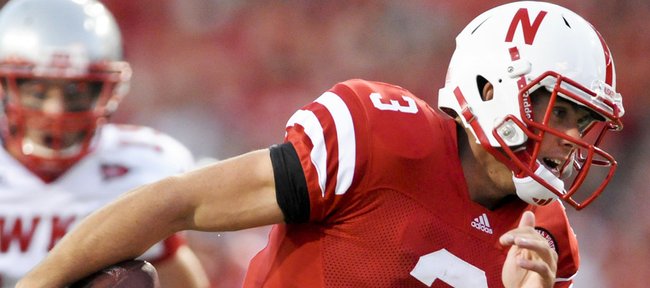 Of the three Big 12 teams in the national rankings, the biggest preseason quarterback question was at Nebraska.
Never mind that Colt McCoy and Sam Bradford left gaping holes at Texas and Oklahoma. Landry Jones proved himself over the course of 10 starts in Bradford's place in 2009. And folks got a look at Garrett Gilbert when he took over for McCoy in last year's national championship game.
Nebraska, meanwhile, had itself a conundrum. Although Zac Lee was the incumbent, he competed throughout camp for the starting job against sophomore Cody Green and red-shirt freshman Taylor Martinez.
But the picture cleared up considerably for the Cornhuskers on Saturday when Martinez had perhaps a bigger impact on his team than Jones or Gilbert.
Although all three Nebraska quarterbacks saw action, Martinez ran for 127 yards and three touchdowns and was solid in the passing game in a 49-10 victory over Western Kentucky.
"It was impressive," running back Rex Burkhead said. "You got to see his speed and how he can get downfield in a hurry. He did a great job of making quick decisions and getting the offense in a routine."
Martinez completed nine of 15 passes for 136 yards and didn't have a touchdown pass or throw an interception. Considering he ran for touchdowns of 46, 19 and 15 yards, that was acceptable.
Lee started last season, when the Cornhuskers went 10-4 but averaged 25 points and ranked 75th in the country in scoring offense. Lee threw 14 touchdown passes with 10 interceptions.
But now it appears the senior is No. 3 in the pecking order. Coach Bo Pelini went to Green in relief of Martinez and finally gave Lee a shot.
"Everything factors into the decision on who you play," Pelini said. "I think you saw tonight (Martinez) can execute any part of the game. We have three quarterbacks who are similar athletes. They can all run. They can all throw. They can all manage the team. It's a good situation."
It didn't take Martinez long to solidify his status as the starter. On his first career run and the third offensive play by Nebraska, he went 46 yards for a touchdown and a lead that never was challenged.
"At my last high school, the first time I carried the ball I scored a touchdown," Martinez said. "And then right when I came here I was hoping I was going to do the same thing."
As a result, Nebraska had little difficulty in its season opener. The same couldn't be said of Texas and Oklahoma.
The Longhorns struggled briefly before taking care of Rice 34-17, and the Sooners went through an absolute scare before escaping with a 31-24 win over Utah State.
Jones entered the season after throwing for 3,198 yards and 26 touchdowns in place of Bradford in 2009. Against Utah State, he was 17-for-36 with a pair of interceptions and two TDs.
"I didn't think Landry was very sharp," coach Bob Stoops said. "He looked hurried and rushed a little bit. And for a guy that has played as many games as he did a year ago, he didn't look like he was in his comfort zone at all."
Partly as a result, the Sooners had to sweat out their home opener. They led 21-10 at halftime, and the Aggies pulled within a touchdown late in the third quarter. Neither team scored in the fourth.
Texas ultimately won going away, 34-17, but had fans nervous after the first quarter when Rice led, 3-0. Gilbert was solid, completing 14 of 23 passes for 172 yards and no touchdowns.
"We did a good job taking care of the ball," Gilbert said. "I thought the receivers did a good job being able to make plays whenever they presented themselves. There are some things that we need to work on, but it's something that we can build on."
More like this story on KUsports.com