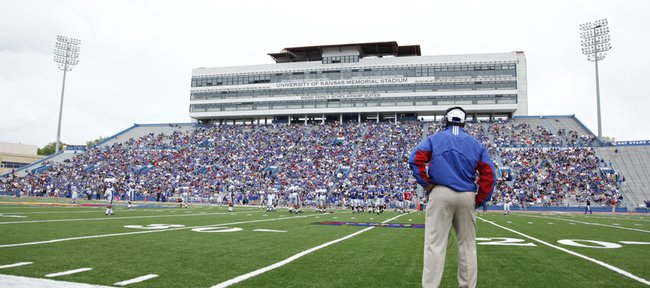 As far as debuts go, this one figures to be a doozy.
Sure, there's the part about Kansas University football coach Turner Gill coaching his first game with the Jayhawks — 6 tonight vs. North Dakota State — the questions surrounding how this year's group of players will fill the void left by some of the school's all-time greats and the usual nerves, jitters and hype that always seem to surround the opening weekend of college football.
But compared with what's happening for Gill and his family this weekend, that stuff seems secondary.
As Gill wakes up today to go over those final pregame preparations — from what he'll do if KU wins the coin toss to how much he'll blitz in the first quarter — his mother, Hattie, father, Turner Sr., and two sisters, Joyce Shelby and Jackie Washington, will be in the car on their way to Lawrence.
Gill, like most men driven by faith and family, is close with his mother and father, who still live in his hometown of Fort Worth, Texas. However, the last time they were able to see him live on the football field came when he was a quarterback at Nebraska in the 1980s.
Fragile health and great distance kept Gill's parents from making the trip to Buffalo during the last four years, and an ailing shoulder nearly kept them from making it today.
"We're getting pretty old, and both of us kind of have a few (health) problems here and there," said Hattie, 74, of her and her husband, who turned 80 on Thursday. "I've been having some problems with my left shoulder, but I had an MRI a couple of weeks ago, and I went to the doctor Monday, and he said my shoulder's really just worn out. But he gave me a shot and some medication, enough for me to hopefully make it up to Kansas and back."
So today, just as they did all those years ago, Hattie and Turner Sr. will hop in the car with Gill's two sisters and head for Memorial Stadium.
Asked at Tuesday's news conference if the opener meant anything more to Gill than, say, just another game along the way, he referred to the joy of being able to have his family in the stands.
"You never dream of that actually happening," Gill said. "My mom and dad have never seen me coach as a head football coach or even as an assistant, and my mom and dad are going to be here. So that's what probably makes it a little bit more special, my (oldest) daughter (Jordan) being here (with my wife, Gayle, and youngest daughter, Margaux) and then my mom and dad having a chance to be here, too."
As he spoke about his family — taking a brief timeout from answering questions about alignments, starting lineups and gameday traditions — Gill's eyes sparkled. By now, no further proof of Gill's genuine nature seems necessary. But the water welling in his eyes provided it anyway. His emotion came as no surprise to his mother.
"I'm sure he was," Hattie Gill said. "Because me and his daddy both have been kind of sick, and he knew that I was seeing the doctor on Monday. When I told him that the doctor released me and that I could come, that really helped him because he wanted us all to be there for his first game."
As for football, that Tuesday morning on the final day of August represented a dramatic change of pace for Gill. As he walked into Mrkonic Auditorium at the Anderson Family Football Complex for his first weekly news conference of the season, dozens of reporters snapped to attention. The room grew quiet, cameras rolled, and it was time to hear about the week's opponent for the first time.
The scene could not have been more different than what Gill had grown accustomed to but, by now, that's barely noticeable. At the University of Buffalo, the turnout was small, the news conferences quick, the demand for a piece of the UB football coach's time less.
Though the time of the weekly news conference is the same here as it was in Buffalo — noon every Tuesday — the interest seems to be a lot greater. In New York, the university ordered food for 15 each Tuesday, knowing that anywhere from 10-15 members of the media might show up. Here, the order is for 60, and the 100-seat auditorium is usually more than half full.
"From a media market perspective, you know, Buffalo's larger (than Lawrence), but you also have the focus divided between the (NFL's) Bills and (NHL's) Sabres, and we're not up there with what the Bills and Sabres get yet," said Buffalo sports information director Paul Vechhio, who spent as much time as anyone with Gill during the past four years.
Though many challenges already have come his way — adjusting to a new town, spending months away from his family, taking nearly 100 new players under his wing and assembling an entirely new coaching staff for starters — the outcome of the next one will be the only one that matters.
Gill came to KU with an overall record of 20-30. Some critics rolled their eyes at the mark, dismissing it as not good enough for a spot in the blue-blood world of Big 12 coaching. But here, Gill is 0-0. A win tonight would make him just the third coach at Kansas (in a list of nine) to win an opener since 1971. Family or not, Big 12 or not, that is enough motivation to get Gill's adrenaline going.
"Even as a coach, I still have that same excitement I did as a player," he said. "I still have those little butterflies before the first snap."
As for those close to him who will be in Lawrence for the first official step in Gill's new journey, they'll be chomping on finger nails, tapping their fingers and trying to calm their fidgeting feet.
"I guess we kind of are a little nervous," Hattie said.
More like this story on KUsports.com