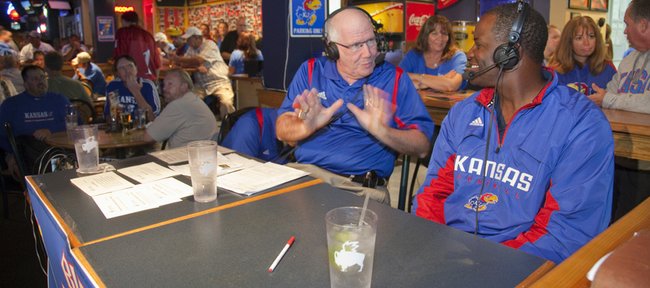 Photo Gallery
Downtown KU football pep rally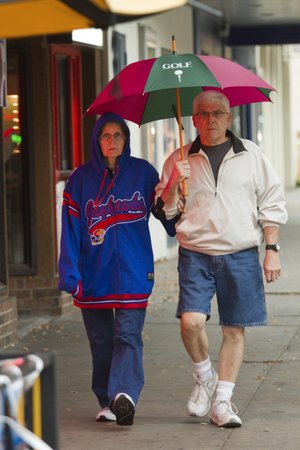 A pep rally planned for the KU football team was met with rainy weather in downtown Lawrence September 2, 2010.
The 1000 block of Massachusetts Street closed to traffic Thursday afternoon for what was supposed to be a large pep rally to celebrate the start of Kansas University's football season.
Mother Nature had other plans.
"Unfortunately, the weather didn't cooperate, but it was a fun event while the people were here," said Jim Marchiony, associate athletics director.
Events were scheduled from 5 p.m. to 7 p.m., with inflatables, the KU marching band and cheerleaders all expected to pump up fans before the football home opener Saturday.
Shortly after 5 p.m., rain started pouring downtown. Those who filled the street ran to take cover under nearby awnings. The storm lasted less than an hour, but Marchiony announced to the dwindling crowd the pep rally would be significantly scaled back because of inclement weather.
John and Bette Sue Wachholz braved the elements to check out the pep rally.
"I just told him (her husband, John), I hope the game's more exciting than the pep rally," Bette Sue Wachholz said.
"I guess we have to let the weather run some things," John Wachholz said.
Despite the rain, some fans stuck around. Many of them sat inside Buffalo Wild Wings Grill and Bar on Mass. Street to listen to football coach Turner Gill on his first Hawk Talk radio show, which was broadcast live from inside the restaurant.
"It went good, had a great crowd," Gill said as he stepped out after the show. "I can see the excitement, feel the excitement. Everybody's ready for football to start."
He and four KU football players held a small pep rally for the crowd of fewer than 100 people.
"We don't expect fans to come out and bear the weather. There are some people sticking around, and we appreciate that," KU running back Angus Quigley said.
Quigley said fans can expect a great game on Saturday.
"It's time to put on the pads against somebody else. We've been working hard, and it's going to be fun," he said. "We're ready to rock and roll."
The Jayhawks battle North Dakota State at 6 p.m. Saturday at Memorial Stadium.
The next pep rally in downtown Lawrence is set for Oct. 21, which is two days before KU's homecoming game against Texas A&M.;
"We're considering this a good dress rehearsal for the event we hope to have in October," Marchiony said.