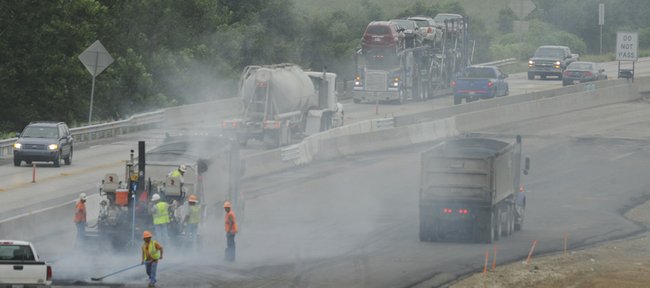 Hey, Jayhawk football fans, it's time to get your game face on.
With the traffic jams, one-way streets and hard-to-find parking, getting to Memorial Stadium for Saturday's season opener could be harder than making your way past the Jayhawk's standout defensive end Jake Laptad.
To help you navigate safely to the end zone (also known as that prime tailgating spot), we are offering up the unofficial 2010 Game Day Playbook. Read it, heed it and be ready to conquer the road.
Perfect traffic storm
Saturday could be the trifecta of a major traffic headache on Interstate 70.
Labor Day travel, a 2:30 p.m. football game at Kansas State University and opening weekend of the Renaissance Festival will all add to the traffic piling onto the Kansas Turnpike between Kansas City and Lawrence.
The Kansas Turnpike Authority expects heavy mid-morning traffic heading west along I-70 and in both directions in the afternoon. As fans leave the K-State game around 6 p.m., traffic congestion will pick up again. The same should be true after KU's game, which kicks off at 6 p.m.
In other words, I-70 could be packed all day.
"Allow enough time and then be patient," KTA spokesperson Lisa Callahan said.
Exacerbating an already-congested highway are two major road projects near Lawrence. Starting just past the Lawrence rest area and heading west three miles to the East Lawrence interchange, which is exit 204, traffic is narrowed to one lane in each direction. Crews will be working throughout the fall to reconstruct that section of road.
In addition, the East Lawrence interchange is closed, leaving the West Lawrence interchange, which is exit 202, and the Lecompton interchange, which is exit 197, as the only two options for getting on or off I-70 near Lawrence.
Callahan predicts traffic to be heavy at both the West Lawrence and Lecompton interchanges.
KTA crews are prepping for game day. They have hired a wrecker to be on standby along I-70 in case of an accident or breakdown. Message signs will alert drivers to traffic congestion, and employees will be out ready to flag traffic or assist motorists with problems.
"We are really trying to do advance work to make it a safe trip and for there to be as little delay as possible," Callahan said.
Driving to the stadium
Most of us know that Kentucky and Tennessee streets are one way (if this is the first you've heard of it: Kentucky runs north and Tennessee south). But on game day, Lawrence switches things up a bit by changing street directions between Tennessee Street and the stadium. While confusing, it helps traffic move through residential streets that become even narrower because of parked cars. The best advice is that when in Old West Lawrence be on the lookout for one-way street signs.
Motorists also should be ready for roundabouts, a traffic-design feature that's prevalent in Lawrence. For drivers who have never encountered a roundabout, the simplest thing to remember is to yield to oncoming traffic before turning right to enter. Whatever you do, don't turn left. That would put you straight into oncoming traffic.
Once in a roundabout, don't stop unless it's to avoid a collision. Remember, incoming traffic yields to you. The Kansas Department of Transportation advises motorists to use their right-turn signal to exit, but don't count on many other Lawrence drivers to follow that rule.
Park it
Don't expect to find parking next to Memorial Stadium unless you've spent a lot of money on donations to KU and to purchase tickets.
On campus, the closest parking lots are reserved for members of the Williams Educational Fund. For the rest of us, there are parking lots available off Irving Hill Road and Naismith Drive. The good news is that tailgating is allowed there and a shuttle takes fans to the stadium. The bad news is it costs $20 to park on campus lots.
"Come early," KU Parking and Transit Director Donna Hultine said. "We got a new season, a new coach and there should be some excitement about this game. So our lots might fill up."

For those who prefer to stay off-campus, come even earlier (as in several hours before the game) if you want to find a free parking space along the neighborhood streets that border Memorial Stadium.
If you're out of luck, lots of nearby residents are more than willing to sell you a parking spot for the evening in their driveway or yard. And, you might even find one that throws in the use of a portable toilet.
The Downtown Option
Some might consider downtown parking the nosebleed section. But if you're looking to save money or are planning to head downtown after the game, it can be a great alternative.
For home Saturday football games, the city of Lawrence offers free all-day parking at its New Hampshire Street Parking Garage in the 900 block of New Hampshire, and the Riverfront Garage at Sixth and New Hampshire streets.
Fans can then catch a ride to the stadium on the city's bus system. Game day buses to the stadium will stop just north of the New Hampshire Street garage and at the cutout in front of the Riverfront Garage. The ride costs $1, and buses run two hours before kickoff and one hour after the game.
More like this story on KUsports.com