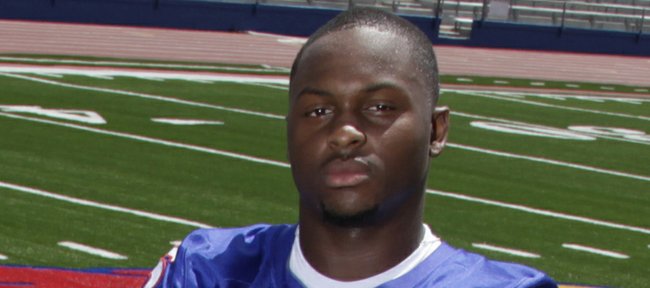 Audio clip
KU coach Turner Gill: Sept. 1
On Wednesday, sophomore Toben Opurum spoke for the first time about his move from running back to linebacker. Though he still has a ways to go in terms of being settled in at his new position, Opurum sounded comfortable with the idea.
"I'm already past the frustrated stage or the being-mad-about-it stage," Opurum said. "I've already went through that. It's gotten to the point where I look at it more as an opportunity and a chance to help out the team."
Tuesday, Opurum's coaches talked about his adjustment thus far. They said he still had a way to go but that they liked what they'd seen from him. Beyond bringing good size and a physical mentality to the position — not to mention much-needed depth — Opurum also has brought a great attitude and relentless work ethic, things that have benefited him even when he wasn't in the right position.
"I actually got an interception yesterday," he said. "I messed up the play, but ended up with it anyway."
As for the physical nature of the position, Opurum said he's used to that since his running style typically involved quite a pounding. Tackling, though … that's a different story.
"All my tackles in my life have been off of interceptions," Opurum said. "I haven't made a tackle on defense since ninth grade, maybe."
Though he's still considered new to the position — especially by college football standards — his coaches and teammates have welcomed him with open arms because of his physical presence and the instant depth, even if they are over the switch.
Said senior linebacker Drew Dudley as he walked off the practice field: "Good, you're talking to 'em today. I'm tired of them asking me about you."
Dudley then laughed and headed for the locker room.
Webb's role still undecided
Although Kansas University football coach Turner Gill and offensive coordinator Chuck Long made sophomore Kale Pick the clear-cut choice at quarterback two weeks ago today, there seems to be some question about what role red-shirt freshman Jordan Webb will have in the offense.
At least early.
Monday, on the Big 12 coaches conference call, Gill was vague about whether Webb would play at all in Saturday's opener against North Dakota State, be it in mop-up time or earlier in the game.
Wednesday, when speaking to reporters before practice, Gill indicated that he and his staff still were discussing things and that the possibility remained that Webb could play as early as the first half.
"We haven't decided at this point in time," Gill said. "We'll decide here at the end of the week. It could be a situation where (playing Webb) wouldn't be at the end of the game. We've talked about possibly putting him in the game maybe in the first half or whatever. Again, we're still discussing that."
Gill did not provide any insight into what factors might influence the decision one way or the other.
"We're going to keep that between Chuck and I," he said.
Webb may not play at all or simply might go in late in the game if the Jayhawks are in control.
This news, no matter how small it ends up being, only emphasizes what Gill said Tuesday about being eager to get a look at his quarterbacks in game action.
Looking ahead
Though the game is still 15 days away, KU's third opponent of the season, Southern Miss, will kick off the college football season at 6:30 tonight with a nationally televised game at South Carolina on ESPN.
Southern Miss, which lost to KU, 35-28, in Lawrence in 2009, is coming off a 7-6 season that included a loss to Middle Tennessee State in the New Orleans Bowl.
More like this story on KUsports.com