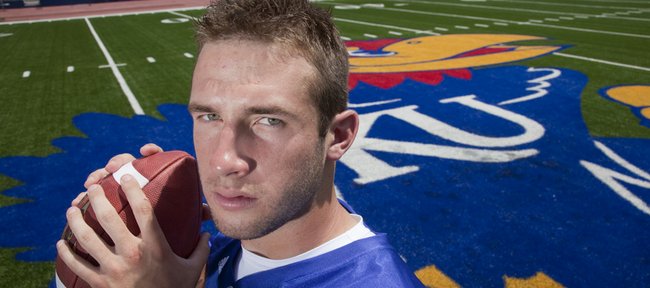 Kansas University football coach Turner Gill no doubt will have his eyes in a lot of different places during Saturday's season opener against North Dakota State.
But the one place that figures to get the most fixed gazes from Gill's direction will be a familiar one.
"I'm just like everybody else," Gill said. "Quarterback. Quarterback."
Since arriving on campus in December, Gill has talked endlessly about competition, camaraderie and his passion for developing young men.
Tuesday, at his first weekly news conference of the season, Gill, a former all-conference quarterback at Nebraska, narrowed his focus to his former position.
"Not to try to say another position is more important than the other one," Gill said. "But how are (KU's quarterbacks) going to respond on gameday? Everybody always sees every snap that he does, and so it's just good to see how he responds. We'll find out. Kale Pick's our guy and we'll go from there."
For Pick, Saturday's start will be his first since the opening game of his senior year of high school in 2007. In that one, a broken thumb sent Pick to the sidelines for the rest of the season, a place he's spent most of his time on gamedays for the last three years.
However, during that time the KU quarterback has found a way to grow. While occupying one of the best seats in the house to watch former KU great Todd Reesing work his magic, Pick spent the past two seasons absorbing the nuances and tricks that made Reesing so great. When to scramble, when to throw, how to buy time and how to push the tempo all are elements that Pick fine-tuned while waiting for his turn.
Although almost no one was watching while the Dodge City native was adding to his arsenal in those days, the 6-foot-1, 208-pound righty seems fully comfortable now that all eyes are on him. Even Gill's.
"I wouldn't say (there's) pressure," Pick said. "Obviously, when he named the starter, we knew that he was going to be analyzing what the starter does on gameday. So I'm excited for that opportunity."
Pick has had plenty of time to flash the intangibles that ultimately won him the job. Ball security, toughness, command in the huddle and experience all have been key. But the thing that seemed to impress his coaches the most was that he didn't stop working after winning the job.
"We always believe competition is healthy and right now it's a very healthy, competitive situation still at quarterback," said offensive coordinator Chuck Long, referring to the relationship between Pick and backup Jordan Webb. "Kale, when we named him (the starter), he said, 'Yeah, right. I've got to keep working.' And that's what you want to hear."
Of course, neither Long nor Gill have been shy about pushing their starting QB while preparing for North Dakota State.
"I like it," Pick said. "It keeps me on my toes. (Gill) will tell me if I am doing stuff wrong and I like that, too. He is there to help me get better and he will help me improve if I am doing something that he doesn't like."
For the most part, the KU coaches have liked what they've seen from Pick. They believe he's got what it takes to lead the Jayhawks to victories this season and, whether those come through the air or on the ground, they've put the ball in Pick's hands.
"We have to allow him to be good at what he is good at and that's running with the football," Long said. "He has some good speed and he has some moves. He's a shifty guy out in space. We look at him as kind of a hybrid running back. When he's tucking the ball, he acts like a running back and he runs like one and that's very rare. And he throws pretty well. That is a nice weapon to have."
More like this story on KUsports.com