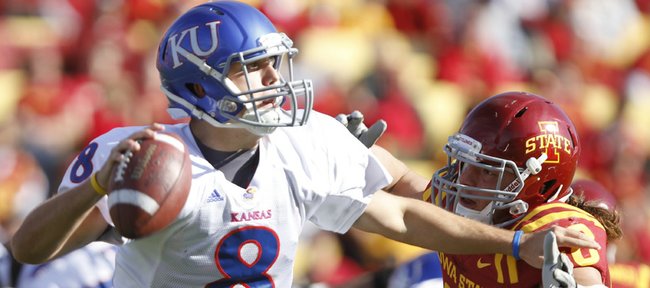 Kansas vs. Iowa State
Ames, Iowa — The coaches simplified the offense, running the ball up the middle to open up the pass for the quarterback making his first start, and it largely worked.
The coaches simplified the defense, letting the players react more and think less, and it worked.
So the last thing the Kansas University football coaching staff needs to do at this point is out-think itself at quarterback.
The Jayhawks looked, acted and sounded more like a team with Quinn Mecham under center Saturday in a 28-16 loss to Iowa State than it had in several weeks.
So regardless of the health of the other quarterbacks on the roster, leave him right there, taking the first snap of the Colorado game, a 1 p.m. kickoff Saturday in Memorial Stadium.
Offensive coordinator Chuck Long noted early in the week that it seemed as if Mecham's presence brought added juice in practice, and that's the way it seemed at Jack Trice Stadium.
"He threw the ball around real well," senior running back Angus Quigley said. "He led the offense, and he acted like he'd been out there. That's encouraging. He was really spirited all week, but it is what it is. We lost."
Mecham's spirit brought out better play in teammates who tired harder for him. In the first year of coach Turner Gill coaching Mark Mangino's recruits, this hasn't always felt like a unified team. Call it progress. So don't regress by benching Mecham.
"Quinn came in and did a great job for being a third-string quarterback," left guard Sal Capra said. "I thought he did a really good job. It didn't surprise me at all. All week at practice he was calm and cool and did a good job."
Mecham appreciated the strong, early work of a running game that opened passing opportunities for him.
"From the offensive line to the receivers to the running backs, they all helped me out all week, and it was great," he said.
Mecham, a junior who put up big passing numbers at Snow College, a juco in Ephraim, Utah, doesn't qualify as a great talent. Kale Pick and Jordan Webb have more mobility, better athleticism. But Mecham is more decisive on where to go with the ball than Pick and a more accurate passer than Webb.
Mecham didn't try to go downfield very often and badly telegraphed his lone interception on a touch pass. He made for a fairly easy target for pass rushers, but he also exhibited a feel for how to manage a game and withstood some serious shots without fumbling.
Mecham's statistics were pretty representative of his performance. Not bad. Not great. He completed 22 of 33 passes for 149 yards and one touchdown and was sacked twice.
Regardless of who's under center, this team has issues, conditioning and special-teams play among them. In four Big 12 games, Kansas has been outscored 91-14 in the second half, including 21-0 in the third quarter Saturday. (The points allowed would be greater than 100 if three of the games weren't blowouts.) Conditioning and half-time adjustments are contributing factors.
Leaving Mecham at QB for at least one more start staves off another issue.