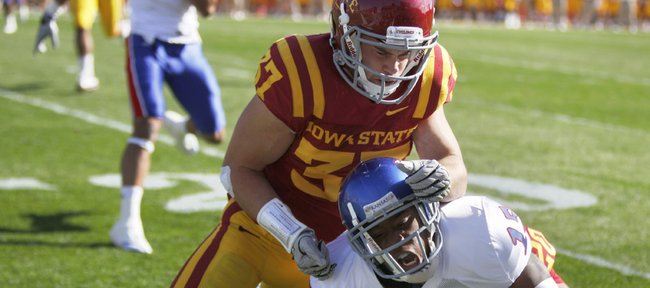 Kansas vs. Iowa State
Jayhawks turn up pressure
For the second week in a row, Kansas University's defense showed significant improvement in getting pressure on the opponent's quarterback.
The Jayhawks, led by a career-high seven tackles from defensive tackle Richard Johnson, forced Iowa State quarterback Austen Arnaud into several rushed decisions and sacked him twice.
"It feels good," said sophomore Toben Opurum, who made his second straight start at defensive end. "I think it's something that we've been lacking in previous games, and we stressed it a lot this week, getting into the backfield and getting pressure on the quarterback."
Johnson and senior Jake Laptad each sacked Arnaud once. Johnson's takedown in the first half was the first sack of his career. Laptad's improved his career total to 18.5.
Defensive tackle John Williams made his first start of the year and tallied five tackles, tied for third on the team Saturday.
In addition to joining his linemates in creating pressure, Opurum also delivered two monster hits on ISU running back Alexander Robinson. One problem: Robinson did not have the ball either time.
"I knew if the back had the ball, he had an opportunity to do anything with it," Opurum said. "He's a good running back, so you make sure you take him out of the play at all costs."
Gill plays it safe
KU coach Turner Gill said the decision to run out the clock late in the first half, instead of trying to get the ball into the end zone, was a safety measure designed to ensure that the Jayhawks took something positive into halftime.
"Just a case of making sure we didn't turn the ball over," Gill said. "Wanted to make sure we got an opportunity to get some points on the board and didn't want to take a risk."
Asked if the precaution was as much about the chance to have the lead at halftime as it was being cautious, Gill agreed.
"That was the thing," he said. "We would have a lead at halftime, and I think that's a plus."
Fourth-down momentum
Twice during the first half of Saturday's loss, Gill instructed his offense to go for it on fourth down in KU territory.
"Momentum," Gill said. "I wanted to keep the momentum going. I thought we needed to do some things there, also send a message to our football team that I believe they can get it done."
Senior co-captain Sal Capra said he loved both calls.
"Yeah, definitely," Capra said. "You like going for those fourth downs because he's putting it on the O-line to get that extra yardage, and I definitely like that."
The Jayhawks converted both times. The bold moves led to just three points for the KU offense.
Webb still the starter?
In the first start of his career, KU junior Quinn Mecham finished 22-of-33 for 149 yards, one touchdown and one interception.
Was it enough to earn him a second start next week against Colorado?
"We'll evaluate," Gill said. "I'm not going to make a comment at this point in time on it. I thought he gave us a chance to win the game. That's what we wanted him to do."
Moments later, Gill elaborated on the status of the position.
"I think if Jordan Webb's healthy he'll be our starting quarterback," he said.
Webb missed Saturday's game because of an injury to his non-throwing shoulder.
More like this story on KUsports.com