Behind a strong offensive performance from seniors Karina Garlington and Jenna Kaiser, Kansas University's volleyball team swept Texas Tech, 25-13, 28-26, 25-17, on Saturday night at Horejsi Center.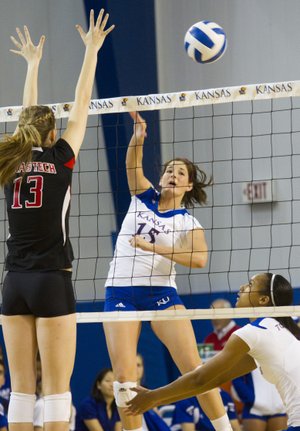 Garlington and Kaiser had 16 kills apiece. Kaiser finished with a .652 attack percentage to Garlington's .615. Junior Nicole Tate had 47 assists and junior Allison Mayfield 11 kills. Tate had 12 digs.
"Offensively tonight I thought we were awfully good," KU coach Ray Bechard said. "We hit .423 and had a side-out of 77 percent. That's as clean offensively as we've been all year. I was a little concerned with Texas Tech's hitting efficiency in the first two sets. We broke through finally in the third set, blocked four balls and created some point-scoring opportunities."
KU, which snapped a four-game losing streak, improved to 14-10 overall and 5-8 in Big 12 play.
More like this story on KUsports.com