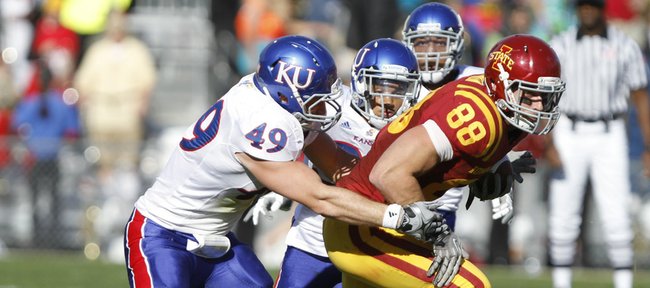 Kansas vs. Iowa State
Ames, Iowa — Iowa State center Alex Alvarez could sense that his team's hurry-up offense was tiring Kansas University's defenders in the third quarter of the Cyclones' 28-16 victory Saturday.
"You can tell that their heads are starting to come down, and you've just got to keep working," Alvarez said. "That's when you've got to put your foot on the gas and choke them out."
Though ISU managed just 8 minutes, 43 seconds of possession time in the first half, the Cyclones found immediate success in the second half with their "jet" — or hurry-up — set.
ISU posted 218 yards of offense during three touchdown drives in the third quarter.
"That's why, just like coach (Paul Rhoads) emphasizes and talks about, we've got to be the best-conditioned team in the nation," Alvarez said. "We pride ourselves on working hard and knowing that we've got to take control and don't let them see our weaknesses. Let them be the weak team."
Alvarez noticed that some of KU's defenders were slow to get up after plays in the third quarter.
"That's when you're like, 'OK, just keep doing it,'" Alvarez said. "'Keep wearing them out. Keep wearing them down.'"
The switch to the jet offense wasn't the only change the Cyclones made in the second half.
Iowa State also made changes on the defensive side, realigning their formation at halftime to stop one particular running play that KU had success with in the first half.
ISU linebacker Jake Knott said that defensive coordinator Wally Burnham drew up the running play in the locker room, then gave his defenders a scheme to stop it.
"That's what ended up happening in the second half," Knott said. "That was probably the biggest thing that happened."
After rushing for 92 yards in the first half, KU had just 27 rushing yards on 12 carries in the second half (2.3 yards per carry).
"We didn't have enough people over there to fill all the gaps, and so that's what they got all the big runs on," Knott said. "(The coaches) figured it out really fast and got us back on our feet and ready to go."
Rhoads said he wasn't surprised KU played so well in the first half with its third-string quarterback (Quinn Mecham) playing and two players suspended.
He'd seen a similar situation with his own team last year. Almost exactly a year earlier — Oct. 24, 2009 — ISU upset Nebraska, 9-7, without injured starting quarterback Austen Arnaud and running back Alexander Robinson.
Coincidentally, KU led ISU, 9-7, at halftime Saturday.
"I'll guarantee you, our football team was ready to play today," Rhoads said. "Our football team had plenty of legs and juice to them. Kansas came out and played a dang good first half."
More like this story on KUsports.com