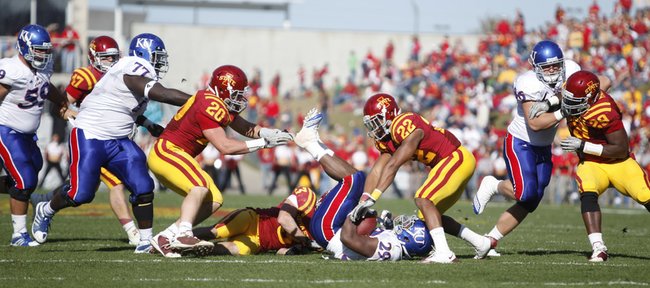 Kansas vs. Iowa State
Ames, Iowa — In every way but the final score, Kansas University's football team competed during its 28-16 loss to Iowa State on Saturday at Jack Trice Stadium.
These days, the effort probably seemed as good as a victory to most people. But KU coach Turner Gill and his players believed the opposite was true.
"We're here to win football games," said Gill, whose team had been outscored 159-24 in the three weeks prior to Saturday's loss. "I didn't come here to the University of Kansas to be competitive. I understand what the perception is and what has taken place in the last two or three games. So the whole thing is, we're making progress, and that's what we talk about doing."
Behind an inspired defense and three field goals from Jacob Branstetter, the Jayhawks outplayed the Cyclones in the first half and took a 9-7 lead into halftime.
"We were pretty confident," junior quarterback Quinn Mecham said. "Things were going our way, we were playing our game, and we just wanted to keep it going in the second half."
As it turned out, the early success was nothing more than a temporary break from a permanent problem.
KU's halftime lead would've been greater if not for its continued inability to score touchdowns and one crucial hiccup on special teams.
When Iowa State sophomore Josh Lenz returned an Alonso Rojas punt 62 yards for a touchdown with 4:24 to play in the first half, the Cyclones took a 7-6 lead despite their offense having just 88 yards, 52 of those coming on one run from senior tailback Alexander Robinson.
"That punt return hurt us a lot because, as a defense, we were playing really well," KU sophomore Toben Opurum said. "We had 'em shut out the whole half, and then they put up seven off the punt return. (Our coaches) always stress special teams because that can really turn the game, and that turned the game in their favor."
To make matters worse, Lenz's return featured at least three missed tackles.
"That was a letdown," Gill said. "They made a play, and we didn't."
Though the return gave the Cyclones the lead, it didn't break the Jayhawks' backs. KU's next drive went three-and-out, but the defense stiffened and gave the offense a chance to drive for a field goal as time expired on the first half.
Mecham, making the first start of his career, hit Angus Quigley (125 total yards) with a 30-yard screen pass that put the Jayhawks in Iowa State territory and set up the field goal.
"It's very disappointing," KU senior Sal Capra said. "We were doing good, but we just couldn't get the ball in the end zone. Every week has felt like that. We've felt we should score on our drives, and we've settled for a field goal or nothing. It's tough."
If the Jayhawks could've turned their field goals into touchdowns — KU's lone TD came on a pass from Mecham to James Sims with seven seconds to play — this one could've been interesting. Instead, it only stayed that way for a half, as the Cyclones outscored the Jayhawks 21-0 in the third quarter to take control.
"Defensively, we talked about getting three and out," Gill said of Iowa State's first drive of the third quarter. "I think we had two or three third downs in that drive, and we weren't able to get off the field."
There were plenty of positives to take away from Saturday's effort. The running game was productive — particularly up the middle — Mecham was sound in his first start, and the final score certainly was more respectable and one that doesn't figure to bring further embarrassment to the struggling program.
"We needed it. We needed it bad," Quigley said. "We've been getting blown out, but we were in the game. A few plays here and there and things could've turned out differently. But I think we can find some positives out of this. Guys plays hard."
Added Capra: "It comes from losing. We played with a lot more heart."
More like this story on KUsports.com