Kansas University senior Olaitan Oguntodu had started KU's first six football games at strong safety and was the team's third-leading tackler.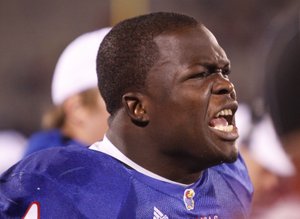 Prior to last week's loss to Texas A&M;, which dropped the Jayhawks to 2-5, Oguntodu was moved from safety to linebacker, where he played sparingly against the Aggies.
Asked Tuesday if he was on board with the change, Oguntodu stressed his commitment to this team.
"Comfortable, yes. I'm comfortable at the position," he said. "I've played the position before. To be honest with you, I anticipated the move before it happened. We've tinkered around before, defensively on the practice field. But you always want to be in position to have some input on the overall production of the team."
His opportunities were limited against A&M;, but KU coach Turner Gill said this week that the idea was to get Oguntodu more involved.
"He's gonna play some," Gill said. "How much, we don't know. But we are gonna rotate him in there with (starter) Steven Johnson. He's on board. I'm not going to say he wasn't initially disappointed. He got a few snaps just to get himself going, and as we go along he'll get more and more. You gotta make sure your guy's going to be able to be successful. You can't just throw him out there."
Still, Gill said the coaching staff chose to make the move because Oguntodu's skills are better suited to his new position.
"He fits a little bit better there. He's a little bit more of a downhill player," Gill said. "He has good size and is able to get off blocks better closer to the line of scrimmage."
Oguntodu, who has recorded 40 tackles this season, said changing positions at this point in his career has been tough but doable.
"You have to be open to change," he said. "If that's what we need to get a win, I'm all for it. I've never let difficulty measure how I go about situations."
Welcome to the show
With running back Deshaun Sands and wide receiver D.J. Beshears suspended for this week's game at Iowa State — 1 p.m. Saturday in Ames, Iowa — a few new names appeared on the Jayhawks' depth chart this week.
Willie O'Quinn, a 6-foot, 181-pound sophomore from Coppell, Texas, was penciled into Beshears' spot as the H receiver, and sophomore wideout Bradley McDougald slid into Beshears' spot as the first-string kickoff-return man.
Cornerback Isiah Barfield slid in to McDougald's old role and also will return kickoffs this week.
Struggle a surprise
Several of the most experienced players on KU's roster this season said the rough stretch they are fighting through caught them by surprise.
Senior receiver Johnathan Wilson, who continues his move up the school's all-time receiving charts, said dropping 12 of the last 14 games he has played has been tough.
"As soon as we came here, we had success, so I kind of expected that year after year," he said. "But the group behind me, and in the years to come, they just have to believe in the program and keep pushing."
Wilson needs nine grabs to move into eighth place on the all-time receptions list. He needs just 81 yards to move into 17th place on that list.
While those factors figure to motivate him some, Wilson said his biggest drive was to end the losing streak.
"I have confidence we can turn it around," he said. "I just want to win. I'm tired of losing."