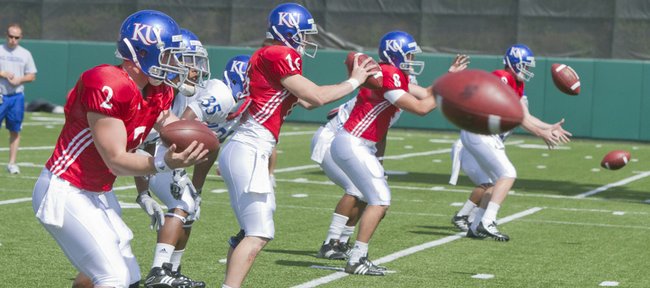 Though he's taught plenty of X's and O's, go routes, fades, bubble screens and zone blocking schemes, there's one piece of advice that Kansas University offensive coordinator Chuck Long thinks stands above everything else.
"I always tell guys, 'You ought to get to know Quinn. He's gonna be a millionaire someday,'" said Long of KU's third-string quarterback, Quinn Mecham. "He's like a double major in finance, he's a straight-A student, he's a sharp young man."
He's also penciled in as the Jayhawks' starting quarterback for this weekend's game at Iowa State.
KU coach Turner Gill said Tuesday that starter Jordan Webb is doubtful and backup Kale Pick is out for Saturday's game.

The injuries — a shoulder issue for Webb and a concussion for Pick — have put Mecham in a position that can be interpreted in a couple of ways. The doomsday crowd might look at Mecham's chance to start as the latest in a line of bad luck for the KU football program.
But those inside the KU locker room choose to look at it differently. They might not have been able to do so before Sunday's practice, but Mecham impressed so much on Sunday that the Jayhawks seem to have serious faith in the junior-college transfer's abilities.
"Just going by Sunday's practice, he felt very comfortable back there," Long said. "He brought a little juice to practice, to be quite honest. He has a great opportunity before him, and he practiced like it on Sunday."
KU coach Turner Gill did not say who Mecham's immediate backup would be. The most recent depth chart lists Webb as the No. 2 guy, but there's no guarantee he'll be ready. If he's not, the Jayhawks could go with red-shirt freshman Christian Matthews, a former quarterback who has spent most of the season working as a wide receiver.
Matthews said Long told him to expect more work at quarterback this week. The mere thought brought a smile to Matthews' face.
"I've still got that passion at quarterback," he said. "So if I get the chance, I'm not gonna hold back."
One thing that may prevent the KU coaching staff from using Matthews as much as they might like is a right shoulder injury he suffered a couple of weeks ago. Matthews, who did not play last week but did two weeks ago against Kansas State, said the shoulder would not be a problem.
"I don't think I'd be able to feel it if I played," he said. "So it's the last thing I'm worried about right now."
Regardless of which player is taking snaps, Gill said the change at quarterback won't force KU to alter its offense.
"There's going to be some simplification," he said. "But we're still going to run what we run. (Mecham) has played two years of college football. I like the way he gets the ball out. He has a good arm and I think he's going to be able to do some things in a good way for us. He's got a big smile on his face and he's ready to go. He said, 'Coach, I'm ready. I'm ready for this opportunity.'"
Despite his own excitement, Matthews said he believed in Mecham. Asked what he expected to see from the 6-foot-2, 207-pound junior this week, Matthews was quick to respond.
"Smart play for the most part," he said. "He's the smartest guy on the team. He's always in the study room or the academic center, doing what he needs to do."
Long said Mecham's intelligence transfers to the field and is the one thing that makes the KU coaching staff feel good about preparing for battle with a third-stringer.
"As I said from the very beginning, this is something that's still being worked out," Long said. "He's a very intelligent young man. He studies the game. He just hasn't had the repetitions. But he's been a very good backup."
More like this story on KUsports.com