Feature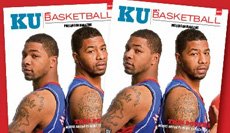 Pick up your copy of KU Men's Basketball Preseason Magazine today!
Naadir Tharpe, who orally committed to Kansas University's basketball team on Oct. 13, was in town Friday through Sunday on his official, yet somewhat anticlimactic, recruiting visit.
The 6-foot senior point guard from Brewster Academy in Wolfeboro, N.H., left Lawrence the way he arrived — ecstatic about his status as a future Jayhawk.
"I'm even more excited than I was before," said Tharpe, who attended a pair of KU basketball practices in Allen Fieldhouse and the Jayhawks' football game against Texas A&M; at Memorial Stadium.
"Practice is fast, intense, and everything is competitive," Tharpe noted. "Coach (Bill) Self wants to shoot every shot like it's the last shot, run every play like it's your last play. It's a winning mentality."
Rivals.com's No. 91-rated player, who chose KU over Oklahoma, Minnesota, UCLA and others, spent a lot of time with his former Brewster teammate Thomas Robinson, as well as freshman guard Josh Selby.
"He's a beast," Tharpe said of Robinson, a 6-9, 237-pound sophomore from Washington, D.C. "He's always smiling. He's a big kid, that's what he is."
Of Selby, Tharpe said: "When it's my time to come to school, I'll be the only (true) point guard there besides Tyshawn (Taylor) or Josh if he decides to stay (a second season before heading to NBA). If he stays, that'd be even better because it'd help us win. The main thing I want to do is win."
Unfortunately, Tharpe saw KU's football team get annihilated, 45-10, Saturday night. Like almost the entire KU student body, he didn't make it until the end of the game.
"The football team isn't bad," Tharpe said. "It seemed they got to the goal line three to four times, then they'd make bad choices on the goalline. I'm sure they'll get better. That is football. I'm here to play basketball."
Tharpe, who averaged 13.0 points and 6.0 assists in leading Brewster to a 35-5 record and national prep title last year, is ready to bring his engaging personality to town. One recruiting analyst called the New England Playaz floor general one of the most popular players on the summer AAU circuit.
"My word to the fans is, you don't even know what's coming. Nobody really knows what's coming,'' he said with a laugh. "My final statement to the fans is: Automatic for the people.''
What's that mean?
"That means everything I do is for the crowd, the team and us to win," he said.
Tryouts: Fourteen hopefuls attended KU men's basketball tryouts Sunday night in Allen Fieldhouse. KU assistant coach Danny Manning had the players participate in warmup, transition and defensive drills and also scrimmage situations.
"I told those guys I admire them and respect them for putting forth the effort in coming out because there are a lot of people on campus walking around saying, 'I woulda, coulda and shoulda and didn't do it,''' Manning said.
"They impressed me with their attention to detail and put forth great effort."
Some familiar faces were on hand, including Anthony West, a 6-6 freshman forward/center out of Shawnee Mission East High School, and Orlando Newton, a 5-11 sophomore guard out of Kansas City Schlagle.
"I was expecting anything. Just to work out with coach Manning ... it was awesome," West said of the 90 minutes in the gym. "I was expecting a lot more (tryout participants). When I saw 14, I was sort of able to loosen up a bit."
Newton, who like West appeared to be in great physical condition, enjoyed running the fieldhouse court Sunday night.
"It was a lot different from what I thought," said Newton, also a standout football wide receiver at Schlagle. "It was an endurance workout as well as basic skill level. It was a great opportunity."
Coach Bill Self has said it'd be extremely difficult for walk-on hopefuls this year, considering KU already has 16 players, including three walk-ons (Conner Teahan is on scholarship this season).
"Depending on what they are looking for," Newton said. "Somebody who can help at practice ... I'd love to do that."
"I'd love to come in and work hard every day," noted West.
Manning said players would be contacted in coming days if the KU coaches decide to invite anybody to practice.
More like this story on KUsports.com