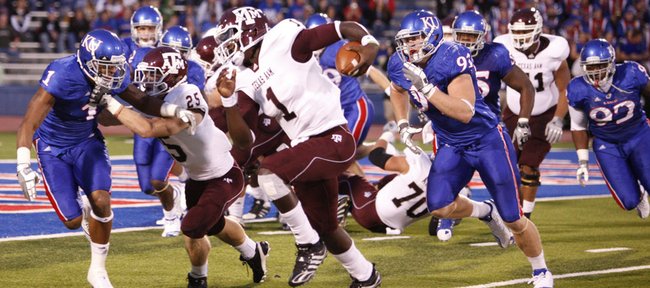 KU vs. Texas A&M
Texas A&M; senior quarterback Jerrod Johnson, the Big 12's preseason offensive player of the year, broke the Aggies' career record for total offense Saturday night at Memorial Stadium.
Yet Johnson, who passed for 139 yards and rushed for 28, including a three-yard score, wasn't the most productive QB in the Aggies' 45-10 annihilation of Kansas.
That honor went to junior backup Ryan Tannehill, who threw for 155 yards and three touchdowns and rushed for another score.
"I am a big fan of Ryan. We've been good friends for a while, been through a lot together," Johnson said after a victory that snapped A&M;'s three-game losing streak.
"It feels good to see him have success," Johnson added of the 6-foot-4, 219-pound former wide receiver from Big Spring, Texas.
Of course, it also was a big night for Johnson, a 6-5, 245-pounder from Humble, Texas.
"I really don't think too much about stats," said Johnson. His 8,888 yards surpassed the 8,876 Reggie McNeal compiled from 2002-05. "I've had some games here and there with stats or whatever. That is one thing. To me the win was the most important thing about this. Wherever I stand in the record books when I leave here is one thing. I just want to try to win as many games as I can that I have left here."
He said he knew he'd be replaced at some point Saturday. He didn't know the hook would come at the start of the second quarter, though he did return in the third.
"It's one of those deals, coach came up to me and said, 'We've got two good college quarterbacks on this team,''' Johnson said. "Quarterback is kind of a rhythm thing. You never know who will be in rhythm or sync that day. Ryan is a good quarterback. Coach put him in, and he did a good job."
Tannehill received more reps than usual in practice last week, but was never told for sure he'd be used in the heart of the game.
"He just told me to be ready: 'You can get in at any time, so be ready and prepare.' Luckily enough I was able to get in," Tannehill said.
So is he the starter or backup heading into Saturday's home game against Texas Tech?
"I guess for right now, as long as coach (Mike) Sherman doesn't tell me I'm the starter, I'm a backup," Tannehill said. "I'm in position just to be ready. If he calls on me, I'll be ready to go."
Sherman said he decided to use two quarterbacks following last week's 30-9 home loss to Missouri.
"We had lost three in a row, and it wasn't all on our quarterback on any stretch. We had protection issues, route issues. We lacked some consistency on offense," Sherman said. "I just thought shaking it up a little bit and having competition at that position would be a good thing."
He said he had a plan for the upcoming week, but didn't reveal it to the media.
"We have two good quarterbacks," Sherman said. "This is what you all create. There is no controversy."
More like this story on KUsports.com