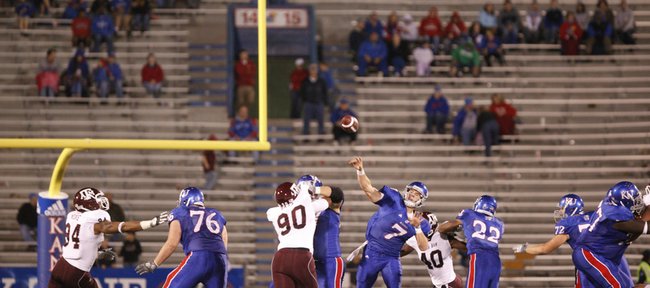 KU vs. Texas A&M
It was a homecoming game in which everybody went home. At this rate, there's no guarantee they'll be coming back.
The Kansas University football team suffered its third straight embarrassing beating Saturday night, this time a 45-10 laugher at the hands of struggling Texas A&M.; By the end, it looked as if the university might have changed one of its school colors to silver, as the glare of Memorial Stadium's empty seats looked more suited to surrounding a scrimmage than an actual college football contest.
"You can talk about the crowd all you want," senior Olaitan Oguntodu said when searching for answers after last week's 59-7 loss to Kansas State. "They appreciate the hard work that we put in, and that's the most they can do. Fans are fans, and when we play our butts off, they cheer for us. That's their role. When we play our butts off, they're in the stands, and they make that place as loud as it can be. The rest is on us."
Like the two routs that came before it, Kansas' most recent loss featured a KU team struggling to score, fighting off untimely miscues and searching for answers.
"We had turnovers, then we had some unforced penalties," Kansas coach Turner Gill said. "I think those are the two big factors (that hurt) when we had an opportunity to put the ball in the end zone and didn't do that."
Despite the end result being what people have become used to seeing, the Jayhawks actually were in this one for a while.
Trailing, 17-3, KU (2-5 overall, 0-3 Big 12) got back into the game with 10:35 to play in the second quarter. Quarterback Jordan Webb hit tight end Tim Biere on two straight passes to pull KU within a touchdown. A few minutes later, with A&M; leading 24-10, the Jayhawks again looked poised to cut the deficit to a single score. But then disaster struck. And it stuck around the rest of the night.
A pass from Webb toward the end zone was intercepted by A&M;'s Dustin Harris and returned 83 yards. Four plays later, the Aggies punched it in and took a 31-10 lead into the half.
"There's plays out there, where if they just went our way it could've been a different game," senior Jake Laptad said.
Be that as it may, even those were few and far between. The rest of the night was a mere formality, as the Aggies continued to pile up the yards and touchdowns, and the Jayhawks continued to self destruct.
Another example came midway through the second quarter when the KU defense followed up Biere's touchdown with a spirited stop. One problem: On the third-down incompletion from A&M; quarterback Ryan Tannehill, Laptad was flagged for roughing the passer. Four plays later it was 24-10.
"That was a tough one for us," Laptad said. "Because if we could've got off the field and got our offense on the field, that would've been a good momentum swing for us."
Despite the mistakes, Gill never questioned his team's desire.
"I thought the guys played with effort. I don't think it was an issue of effort," Gill said. "We just didn't make enough plays. That's what's happening. The other team is making the plays, and we're not."
The previous two beatdowns may have been more embarrassing, but this one definitely was more costly. In addition to losing Webb, the starting quarterback, to a shoulder injury just before halftime, the Jayhawks also lost backup QB Kale Pick to a concussion in the fourth quarter.
That sent sophomore receiver D.J. Beshears to quarterback for half a series, as Gill elected to go with the playmaker in the Wildcat formation before giving way to third-string quarterback Quinn Mecham.
Gill did not know the outlook for his top two quarterbacks following the game.
"Oh, it's tough. A loss hurts," Gill said. "And it's tough to try to come back and do it week after week after week. It takes its toll. I know we're all human beings, and it hurts, and there's frustration."
Biere agreed, but said the team was trying to remain positive.
"It's been a tough three weeks," he said. "But there's better days ahead. It's a low point, but we can only go up from here. It's just a terrible feeling, as much as most of us have dedicated to this program, to see it like this right now."
Added Quigley: "We're still not out of it, as bad as it looks."
More like this story on KUsports.com