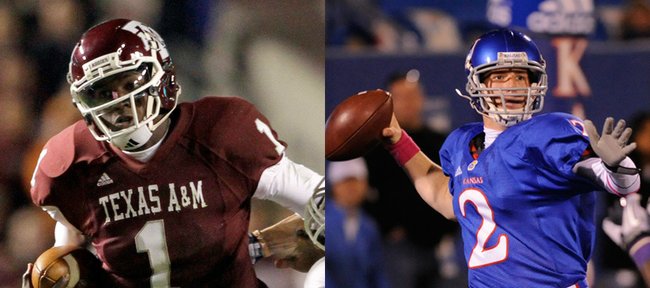 Kansas University's Jordan Webb and Texas A&M;'s Jerrod Johnson are different in just about every way imaginable.

However, when Webb's Jayhawks and Johnson's Aggies face off at 6 tonight at Memorial Stadium, the two quarterbacks have one thing in common: Both are struggling.
"You know, just the same old (things)," Johnson said. "They've been bugging us for a while. A lack of execution. We've got to find a way to execute."
Sound familiar? Webb and the Jayhawks also have talked a lot about trouble executing during the first six games. And as the two QBs continue to feel their way through their recent rough patches, KU coach Turner Gill drew on his own experience as a quarterback when attempting to explain how to navigate the bumpy road.
"You keep playing," Gill said. "Keep playing, keep being competitive, keep having confidence in what you're doing. Stay within the framework of what your coaches are teaching you and what your reads are."
Webb admitted Tuesday he has had moments this season when he has gotten out of the system. In each instance, he said it was just him trying too hard to make something happen. He also said he needed to do a better job of keeping that in check and doing what the coaches ask.
"It definitely is easier said than done," Webb said. "Competitors want to make plays any chance we can, and sometimes it'll take you out of the system. But you just can't let that happen."
A lot of what has plagued Johnson has been his obsession with eliminating mistakes altogether. Johnson was voted by the media as the Big 12's preseason offensive player of the year and, at times, he has played as if trying to live up to that.
"He wants to play a perfect game," A&M; coach Mike Sherman said. "And you're not going to play perfect. Sometimes you have to cut it loose."
Based on film studies and the haunting reality of his raw size — 6-foot-5, 245 pounds — the Jayhawks are well aware of what can happen if Johnson gets on track. Their hope is that the KU defense can frustrate him for at least one more week.
"Everybody has their struggles," KU linebacker Steven Johnson said. "But I'm pretty sure he's a monster, so if you wake him up, that's it."
Added defensive coordinator Carl Torbush: "He's a great force to be reckoned with, and I still believe he's what makes Texas A&M;'s offense tick."
As for Webb, KU offensive coordinator Chuck Long said the surest way for the red-shirt freshman to overcome his current struggles is to relax.
"He's hard on himself, and that's part of it," Long said. "He's competitor, and part of the teaching is, 'Hey, move on. We'll watch the tape on Sunday. But you gotta move on to the next thing.' What happens to a young quarterback is they let one play affect the next play. And that's creeping in a little bit right now."
While Gill and Long — both former college quarterbacks who can remember being in Webb's shoes — are doing everything in their power to guide their young QB out of his funk, a few other players on the KU roster have started to see their role in it, as well.
"I can help Jordan," senior co-captain Angus Quigley said. "I can catch the ball. I can be an outlet for him. I can help sew up some of the protection so he can get the ball off. And I can kinda just talk to him. If he gets down on himself or frustrated, I'm right there to tell him to calm down. and let's make this happen. or let's put a drive together. Those are small things that may go unseen but those are big things that'll help Jordan be successful."
More like this story on KUsports.com