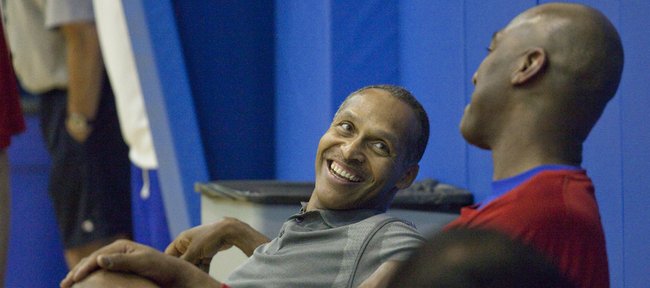 Bill Self turned to one of his best buddies to serve as featured speaker at Friday's Kansas University Basketball Coaches Clinic in Allen Fieldhouse.
Norm Roberts, head coach at St. John's the past six seasons after working on Self's staffs at KU, Illinois, Tulsa and Oral Roberts, shared some X's and O's insight with several hundred high school, junior-college and small-college coaches immediately following KU's two-hour basketball practice.
"Norm is as good as there is," Self said of the 45-year-old Roberts, who went 81-101 in his six seasons at the Big East school.
"There's nobody better from a recruiting standpoint. (He's a) basketball junkie, a very good coach who does it the right way, is highly ethical. I think he'll get an opportunity (to return to coaching) soon."
Roberts will work the 2010-11 season as studio analyst for Sports New York TV Network, which covers Big East basketball.
"I hope so," Roberts said of returning to head coaching in 2011-12. "This will be a great opportunity to do something new.
"I thought our teams got better every year (at St. John's), and the guys played with great intensity and toughness. The people there were really good to me, and obviously the people here and coach (Self) have been great to me."
Roberts — who is father of KU freshman walk-on combo guard Niko Roberts — was in his element at Friday's practice.
"Just sitting here today, talking with Mr. Morningstar (Roger, former KU player), I'm saying to myself, 'What do you miss?' This is what I miss, the teaching in practice," Roberts said. "That stuff is what gets you going as a coach. It's what you love the most. I miss it a ton."
In coming weeks, he'll attend practices at Duke, North Carolina, Virginia Commonwealth, Georgia and Georgia Tech.
"It's an opportunity to see people do different things, what they emphasize, how they run practices. It can only make you better," Roberts said.
He likes what he saw Friday in KU's team.
"Extremely athletic. I think they will have a great ability to score. I think they can be one of coach Self's best defensive teams because of their lateral quickness and length," Roberts said.
"When you have the (Morris) twins out there who can really move their feet on ball screens ... (Jeff) Withey will add a lot to the team's shot-blocking ability. Thomas Robinson is physical. Then on the perimeter with (Josh) Selby, Tyshawn (Taylor) and Elijah (Johnson) ... they are so quick. They can play small with Mario Little. They have a lot of options, and having two great shooters in Brady (Morningstar) and (Tyrel) Reed. Tyshawn and Selby will be able to get those guys shots."
Roberts said he'd follow the Jayhawks' fortunes closely as they try to win their seventh straight Big 12 title.
"It is always a huge deal to win championships. Coach has done it repeatedly," Roberts said. "One thing he does a great job of ... when one year is over, he immediately moves onto the next year. He loves what they've accomplished here. He knows the next step is to try to win another one and continue to get those (college) graduates. He doesn't get caught up in the past."
Of his former boss, Roberts said ... "Bill is awesome. He's been a great mentor to me. He still mentors me now as he's done with coach Jankovich (Tim, Illinois State) and numerous guys like Scott Sutton at Oral Roberts, Barry Hinson (KU director of basketball operations, former Missouri State coach), all the people he's worked with. He gives you a great vehicle to work. He wants you to do things you know and bring things to the table every day. Not a lot of guys let you do that like he does. I thank him for that."
As far as his own flesh and blood ... 5-11 guard Niko Roberts, Norm said: "He's still growing. He's got to get stronger, but this is a great opportunity. To wake up every day and be a Jayhawk is awesome," Norm said.
Tharpe on campus: Naadir Tharpe, a 6-foot senior point guard from Brewster Academy in Wolfeboro, N.H., who committed to KU last week, is on his official recruiting visit to KU. He watched Friday's practice with junior center Markieff Morris, who on Thursday had hernia surgery and will be out seven to 10 days.
Tharpe averaged 13.0 points and 6.0 assists a game last year for 35-5 national prep champion Brewster. Rivals.com's No. 91 rated player chose KU over Oklahoma, Minnesota, UCLA, St. John's, North Carolina State and others.
"Basically life has been really exciting for me since I made my decision to attend Kansas," Tharpe told Rivals.com earlier this week. "I'm just blessed. I'm focused on winning the league and also winning another national championship. We're coming together really well. We don't start practice until Nov. 1, but we've been going hard, conditioning-wise. Everybody wants the same thing."
Tharpe has been compared to former KU point Aaron Miles, who practiced with the Jayhawks on Friday — a couple of days after getting cut by the NBA's Golden State Warriors. Tharpe last year fed the ball to the likes of Brewster players Will Barton (20.8 ppg), C.J. Fair (14.0), Maurice Walker (12.5), Melvin Ejim (11.1) and Austin Carroll (10.1). Brewster has a 57-17 record with Tharpe as the starting point guard.
McLemore update: Ben McLemore, a 6-5 guard from Oak Hill Academy in Mouth of Wilson, Va., did not visit Missouri on Saturday as previously reported. He was to take the ACT test Saturday and visit Missouri next weekend.