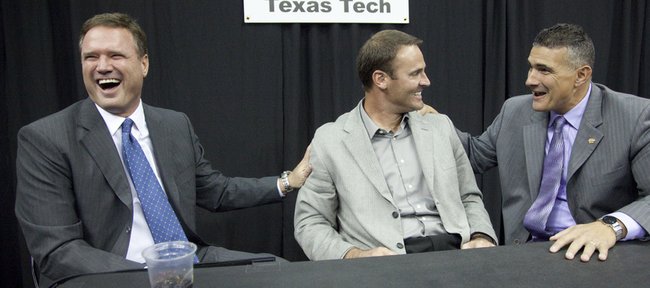 Kansas City, Mo. — Kansas University basketball coach Bill Self, who had just completed a marathon, hour-long session with reporters, plopped down in a chair directly to the right of Texas Tech coach Pat Knight on Thursday afternoon at Sprint Center.
Moments later, Kansas State's Frank Martin joined in the fun, occupying the seat to Knight's left.
"This will be the most attention Tech's ever got," Knight said to the onlookers eavesdropping on the trio's meeting of the minds at Big 12 Men's Basketball Media Day.
Martin, whose Wildcats were tapped No. 1 in the coaches' preseason poll, and Self, whose Jayhawks placed second, were mobbed at their respective tables for the full 60 minutes. Knight, whose Red Raiders were predicted to finish seventh, not so much.
Self's most interesting comments came in response to questions about individual KU players, starting with first-team preseason All-Big 12 pick Marcus Morris.
"Marcus may be as good a guard as we've got," Self said of the 6-9, 235-pounder, who will play in both the frontcourt and backcourt this season. "We can go big if we want and play Marcus on the perimeter."
Surprising reporters by use of the word "guard," he did say Marcus was ticketed for inside duty in the immediate future because of injuries to Jeff Withey (foot) and Markieff Morris (hernia).
"We don't have enough inside guys to practice," Self said. "We have practiced Travis (Releford) at the 4 and Mario Little at the 4. It's something we can do when we try to play small. Offensively, those guys are really good on the post. You can put Marcus at the 3, then post a guard. I think we'll get to the point we're actually decent doing that."
Morris grinned when asked if he could even play point guard in a pinch.
"Yes, I've played that before, in prep school," he said. "I feel I'm one of the most versatile players in the country. I can play every position if need be."
Self also was asked about ...
• Senior guard/forward Little: "I think he can score," Self said. "I think he'll be part of our rotation. I don't know if he'll start, be sixth man, seventh man. I like him because he is older. He has a pace about him. He doesn't get rattled. He's become a more poised player. He's hungry. He feels he has something to prove and show to everybody. What I see a lot is posting him and playing Marcus on the perimeter so you get Marcus' big man away from the basket and allow him (Little) to post a guard."
• Sophomore guard/forward Releford: "We thought he'd be a major-college defender when we signed him. I don't think his freshman year he had a chance to show that (before red-shirting last year). He can slide. He's long. He's strong. He's smart. There's no reason why he can't be a really good defender."
• Sophomore forward Thomas Robinson: "He is a beast. Unfortunately, he fouls the heck out of everybody. His game is still in fast forward. He has to slow down. He works hard. Thomas should be one of the most improved players in our league."
• Senior guard Brady Morningstar: "What is Brady, 25? The Class of '83?" Self joked of the 24-year-old. "He goes to prep school, then red-shirts here. He's really been good. He's had a good offseason. I think he'll have a big senior year."
• Junior guard Tyshawn Taylor: "He's worked very hard to make this a special year for himself."
• Freshman guard Josh Selby, who has yet to be cleared by the NCAA: "I don't know if we will know in the next two or three weeks," Self said of the NCAA's final decision on Selby's academic eligibility and amateur status. "There are natural progressions that need to take place that potentially give us a better idea. We are in a situation we are at ground zero. We do have reason to believe there is a light at the end of the tunnel.
"I think there's a chance that could happen," he added of Selby not being cleared by the season opener. "I also think there's a chance he could. I just hope that whatever penalties are leveled, if any, it'll be things that give him a chance to still enjoy his freshman year."
Self is optimistic.
"I just believe in my heart these things have a way of working themselves out. I believe the kid deserves the right to play."
• Freshman guard Royce Woolridge: "Royce is very good with the ball, and he is a typical freshman in that I have him totally screwed up. He doesn't know if he's coming or going. Most freshmen are like that. He'll get it because he's a bright kid. He's a guy who can help us. For him to beat out Brady or Tyrel (Reed) or Elijah (Johnson) he's going to have to play very well but he's capable of doing that."
Turgeon true blue: Coaches couldn't vote for their own teams, so somebody besides Frank Martin gave KU its second first-place vote in the coaches poll. Was it Texas A&M;'s Mark Turgeon?
"I think so. To tell you the truth, I don't know for sure," Turgeon said. "I thought it was me, but I was talking to Doc (Sadler, Nebraska), and he said he thinks he voted them No. 1. I honestly can't remember."
Fashion statement: Marcus Morris wore his 2010 Big 12 title ring. "It's our sixth straight (title). I'm proud of it. It's a Big 12 (event). I have to show everybody," he said with a smile, referring to players from other teams.
KU 7th: KU is seventh in the first USA Today/ESPN Top 25 poll. Duke is No. 1, followed by Michigan State, Kansas State, Pitt, Ohio State and Villanova.
Turgeon lauds Self: Turgeon said if of Self's role in keeping the Big 12 together: "Bill was tireless. Kansas basketball is pretty powerful. I know there were a lot of people, whether it was commissioners or television people, who were going through Bill, I think, to try to save the league. Bill was calling me four or five times on a Sunday morning, and I'm like, 'Bill, I'm walking into church. I'm going to leave my phone here, and I'll call you when I get out.' And there will be two messages, 'Hey this is going on.'
"I'm not saying Bill saved the league. I think Frank Martin worked hard on it. We all worked hard on it. We all wanted to save it because we have something special in basketball here, and we wanted to save it. I think Bill had something to do with it."