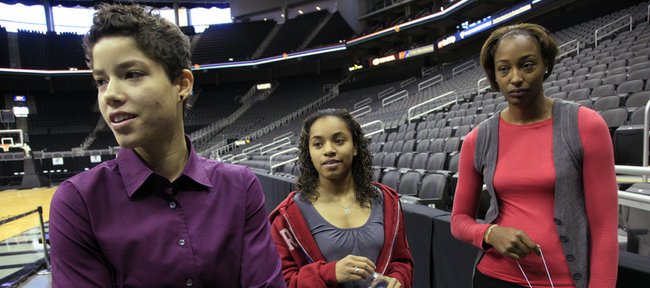 Kansas City, Mo. — Last season, Kansas University forward Carolyn Davis looked around and knew things were about to change.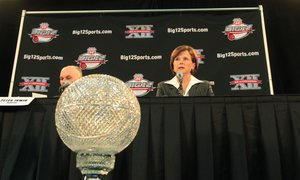 Senior Danielle McCray went down with a knee injury and the four other Jayhawk seniors were rapidly nearing graduation. Davis said it was then she realized much of their responsibilities would soon fall upon her.
"I think they helped us be able to lead this team," she said.
Along with Davis, two other sophomores — Monica Engelman and Angel Goodrich — stood front and center at Wednesday's Big 12 Media Day at Sprint Center.
At last year's event, coach Bonnie Henrickson sat at the podium and described the two seniors she brought with her — McCray and Sade Morris — as a dynamic duo akin to Batman and Robin.
This time around, Henrickson was hesitant to dub her trio of talented sophomores with a similar moniker.
"I don't want to hang it all on those three," Henrickson said, quickly pointing out that junior forward Aishah Sutherland, senior center Krysten Boogaard, red-shirt freshman Tania Jackson and the four incoming freshmen will all play significant roles this season.
Henrickson did do a lot of talking about Boogaard, a "much stronger" Sutherland, as well as the freshmen who will see a bulk of minutes, but the conversation always seemed to shift to either Davis, Engelman or Goodrich.
Fair enough.
With Goodrich back, Henrickson has already raved about the return to an up-tempo style of play, even in pickup games. Davis shot an eye-popping .719 percent from the field last season en route to Big 12 All-Freshman team accolades. And Engelman filled in admirably for the injured McCray, averaging 12.1 points, 3.5 boards and 4.1 assists in her 13 starts.
Most striking was that the three sophomores were the only Jayhawks in attendance on Wednesday, as well as the only ones featured on the cover of the newly-minted 2010 media guide — so it's difficult to avoid labeling them as the new faces of the program.
"It's an honor to have that as the expectation from other people," Goodrich said. "But I don't think we should look at it that way. We have to think about our teammates, help them, and take the role of leading."
They'll have to.
Though Davis, Engelman and Goodrich have only 41 starts combined, they're among the most experienced players on a Jayhawk team that only has one junior and two seniors.
"We're comfortable with it," said Davis, who was recently named preseason honorable mention All-Big 12.
Davis added that because of last season's injuries that thrust her and Engelman into prominent roles, it forced her to grow up quickly.
"I think that since I did go through so much, I'll be able to help the freshmen a lot," Davis said.
At the very least, the three sophomores, who were voted by their teammates as this season's captains, have embraced their roles as leaders.
All that remains now is meeting the lofty expectations.
"We can all live up to whatever name we want to put on ourselves," Engelman said. "But I think it's just important that we do our jobs and do them well."
Note: When asked about any update regarding the status of senior forward Nicollette Smith, Henrickson said Smith will remain on her leave of absence for the remainder of the fall semester, but could return to play as early as January.
More like this story on KUsports.com