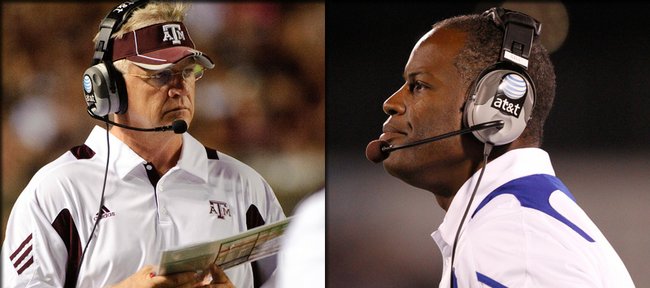 It has been five years since Mike Sherman and Turner Gill stalked the Green Bay Packers sidelines together, Sherman as the head coach and Gill as the Packers' director of player development.
But it only took Sherman a fraction of a second Monday to remember what it was about Gill that inspired him to hire the current Kansas University head coach despite Gill's having no professional coaching experience to that point.
"Once I met him and talked with him, there's a lot to him as a person and as a coach," Sherman said during the Big 12 coaches teleconference. "I could see that he would relate well to our players. I think in coaching you have to be a great teacher, and you have to be able to communicate, and I thought he was a great communicator because everything he said was true and honest."
Gill and Sherman's paths crossed because of a man named Tom Rossley, Sherman's offensive coordinator in Green Bay, who, as the head coach at SMU from 1991-96, had hired Gill to be the Mustangs' wide receivers coach in 1991.
At the time, Gill, a former all-conference quarterback at Nebraska, had spent one season as a graduate assistant with the Huskers.
"I decided it was time for me to make a move (away from Nebraska)," Gill said. "I had known Tom Rossley for a while, and we had always communicated that if there was an opportunity that presented itself or a job opening at Green Bay, he would let me know and see if I was interested."
That opening came when the Packers were looking for a new receivers coach in 2005. Gill interviewed for the position but instead was named the team's director of player development.
"More than anything else, (I remember) his character as a person," Sherman said of what impressed him about Gill. "I mean, you knew what you were getting. He was just somebody that you had tremendous trust and confidence in. The coaches and the players believed in him, and he was just a man that was true to his word and had a tireless work ethic."
Green Bay finished just 4-12 during the '05 season, the first in which both current Green Bay quarterback Aaron Rodgers and future Hall-of-Famer and former Packer Brett Favre were on the team's roster.
This weekend, Gill and Sherman will meet as foes, when the Jayhawks welcome Texas A&M; to Memorial Stadium for a 6 p.m. Saturday kickoff.
Then, just as before, the man who connected Sherman and Gill also will be present, as Rossley, currently A&M;'s senior assistant and quarterbacks coach, will be in Lawrence attempting to lead A&M; past Gill and the Jayhawks.
Despite having history together, Sherman said the past would have no bearing on this weekend's game.
"At this point in the season, it's the players who play the game on Saturday night," Sherman said. "I don't think either one of us has an advantage over the other in relationship to a prior knowledge of each other."
Quarterback change coming for A&M;?
Rumors have run wild, since Texas A&M;'s 30-9 loss to Missouri last weekend, about Sherman exploring the idea of a change at quarterback. Monday, the third-year Texas A&M; coach shined some light on the topic of potentially benching Jerrod Johnson, the Aggies' starting QB and preseason pick for Big 12 offensive player of the year.
"Every week, and these players know this, we evaluate every player after every game," Sherman said. "We will go with who gives us the best chance to win. Everyone knows that is looming, including Jerrod. I have zero favorites. Some guys I'm usually harder on, the star players for example, but I don't have any favorites one way or the other. I care about all of them, but as far as winning, my decision goes with who gives us the best chance to win."
Pressed to expand on his answer, Sherman did not hesitate to throw a vote of confidence Johnson's way.
"I believe in Jerrod Johnson," Sherman said. "He's a leader on that team, he's averaging 300 yards a game, I trust him, I have confidence in him and I believe in him."
Should the Aggies (3-3 overall, 0-2 Big 12) elect to go in a different direction at QB, junior Ryan Tannehill, is listed as Johnson's backup.
"He'll get his reps this week and we'll continue to play it like we normally play it," Sherman said.