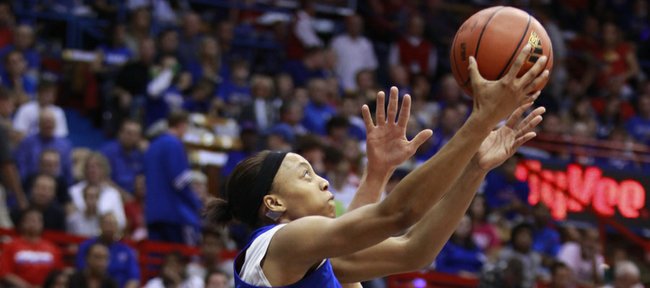 Tory Verdi isn't taking it easy on Aishah Sutherland.
Verdi, the new Kansas women's basketball assistant coach, yells constantly at Sutherland in practice. He makes the 6-foot-2 junior forward run sprints afterwards if she makes any small mistakes.
Sutherland isn't about to complain.
"That's what I need. I don't need it easy," Sutherland said. "It's not going to be easy getting to the next level. I just need to keep progressing and stay consistent."
Sutherland showed flashes of her potential in the KU women's 22-14 victory over their male practice team on Friday during Late Night in the Phog at Allen Fieldhouse.
The Perris, Calif., native posted four points on 2-for-3 shooting to go with four rebounds, a block and a steal in the 12-minute exhibition.
"We've got to be able to count on her and depend on her," KU coach Bonnie Henrickson said. "You do that by giving great effort in practice every day. She's done a much, much better job about being more consistent."
Sutherland's inconsistency was most evident late last season, as she hit a rough spell during the final third of the year.
After posting double-figure scoring in 10 of her first 11 games, she contributed 10 or more points in just two of her final 11 games.
"I want to show people I'm still here," Sutherland said. "I still have my talent."
Sutherland, who averaged 9.3 points and 7.1 rebounds per game last year, has worked with Verdi on improving her moves penetrating to the basket. Because she's not as big as many of the post players in the Big 12, she's learning to use her quickness to get open shots.
Her commitment to getting better started in the offseason when she sat in a meeting with Verdi.
Her new position coach asked if she wanted to be a great player and advance to the next level of basketball. Sutherland said she did.
Verdi then told the forward that she had to focus on her improvement. The coach — a former assistant with the Connecticut Sun in the NBA — also helped Nebraska forward Kelsey Griffin to a future WNBA career during his time as an assistant at Nebraska.
"He has a record," Sutherland said of Verdi. "I trust him."
Sutherland also likes having a male assistant coach around — something that hasn't happened in Henrickson's previous six seasons at KU.
"He's a very tough coach," Sutherland said. "I like a male coach, because when I grew up, I was taught by males all my life. So I feel more comfortable with this."
More like this story on KUsports.com