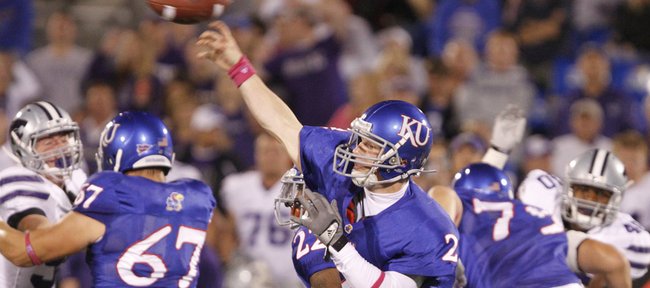 Kansas vs. Kansas State
Videos
KU football vs. KSU 2010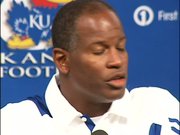 Videos from the Jayhawks' game against Kansas State on Thursday, October 14, 2010.
Sometimes, Fred McGriff brought up the subject when eating with his son at Bigg's Barbecue or Applebee's in Lawrence.
Other times, the topic would come up when the father and son were playing Madden or MLB 2K10.
The former major-league baseball player would tell his son, Erick, always to be ready for his chance.
"He would always tell me, 'You never know when it's going to happen,'" Erick said, "and to make the best of the moment when it comes up."
The red-shirt freshman impressed during his playing time in Kansas University's 59-7 loss to Kansas State on Thursday night, catching three passes for 37 yards, including his first reception as a Jayhawk.
"It was exciting," Erick said. "I was just ready to go in and do my thing and help out any way I could."
McGriff was called into the game late in the second quarter after KU receiver Christian Matthews left because of an injury.
McGriff, a 6-foot-3, 209-pound native of Tampa, Fla., picked up his first collegiate catch in the third quarter, taking in a two-handed chest pass from Jordan Webb after the QB scrambled out of the pocket.
"That's not how I envisioned (my first catch), but there's no better way to go get it," McGriff said. "It was fun."
Later in the third quarter, McGriff went high to bring down an 18-yard reception between a Kansas State cornerback and safety.
"This is just a small step of things to come," McGriff said. "That's just a small step, and now I've got to improve each game from here on out."
McGriff said he's learned the most from watching teammate Daymond Patterson, who has helped him improve his hands and feet and also helped teach him how to read coverages.
"I always watch him and see what he can do, because I know he's a great receiver," McGriff said. "He gets open a lot, and he makes it happen. That advice from him is good."
Erick said his dad helped him last year when he decided to sit out the season with a red shirt.
"I couldn't ask for any better (from him)," Erick said. "He knows what I've gone through. He's been through similar situations and similar stuff. He's just a great role model."
Fred flew to Lawrence to watch the game Thursday, though he and Erick weren't able to see each other before kickoff.
Though Fred makes most of KU's games, Erick figured this would be his favorite.
"I know he'll definitely share this moment with me," Erick said, "and we'll have fun to talk about it afterwards."
More like this story on KUsports.com