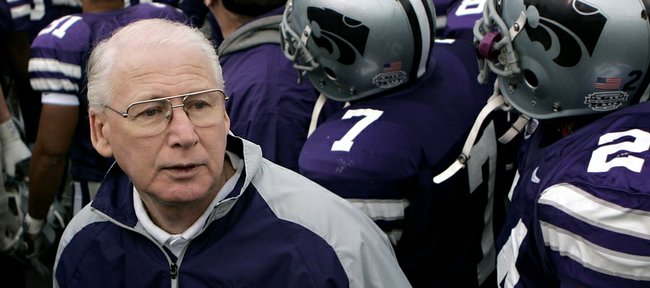 Call him a rival, call him old, call him a thorn in the side of Kansas University football.
But don't even think about disrespecting Kansas State coach Bill Snyder.
Around here, that doesn't fly — not even with Jayhawks.
"What he's done has put Kansas State on the map nationally," KU offensive coordinator Chuck Long said. "It is quite remarkable. He's obviously a Hall-of-Fame coach."
While tonight's game against K-State — 6:30 p.m. at Memorial Stadium — is the first showdown with Snyder for several current Jayhawks, including KU coach Turner Gill. Long's relationship with the longtime KSU coach goes back three decades to a couple of recruiting visits and a few years at the University of Iowa.
"He was my coach in college, he was my position coach," said Long of Snyder, who coached under legendary Iowa coach Hayden Fry for 10 years from 1979-88. "Coach (Snyder) and I go way back, all the way back to recruiting back in 1981. So we have a long history, and, in this profession, we just kind of keep showing up against each other."
As an assistant at Oklahoma, Long faced Snyder's Wildcats a few times and, during each encounter, he said his pregame chats with the man who orchestrated the "Miracle in Manhattan" were something he looked forward to tremendously. Though the scoreboard says they're bitter rivals now, Long's hoping the trend continues tonight.
"He retires, and then he's back in, and now I'm back in the Big 12," Long said. "And not only that, but right next door. We always have a good conversation before the game. I'm sure we will again, and I'm actually looking forward to that."
Long's not the first Jayhawk to look forward to facing Snyder. Though the Wildcats and Jayhawks have waged war against each other on the gridiron for more than a century, many current and former KU players have fond memories of facing Snyder throughout the years.
One such man is former KU player and coach Clint Bowen, now an assistant coach at Western Kentucky.
Asked last week to sift through some of his best Snyder stories, Bowen — a man who has made no secret about the fact that he bleeds crimson and blue — had nothing but glowing things to say about his former foe.
"The thing about playing his teams was they were always so prepared," Bowen said. "When you played K-State, you could literally feel them taking a scientific approach to dissecting your defense and, by the end, by the fourth quarter, he'd have handful of plays that would work, and all of a sudden they're rolling on you."
Snyder's done his share of that against Kansas during his time at K-State, including an 11-game winning streak against the Jayhawks that stretched from 1993-2003. KU broke the streak in 2004 and actually went on a small run of its own, winning three straight from 2006-08. During a chunk of that time, Snyder was retired. But after returning to the sidelines last season, Snyder brought his golden touch back to the rivalry, as the Wildcats knocked off the Jayhawks, 17-10, in Manhattan.
"There's no magic about him," Bowen said. "In one year after coach Snyder got the K-State job again, he had his guys back to playing unbelievably sound, fundamental football. And you just know that he and his staff would just harp on those things and preach them. It's all the boring stuff that makes him great."
Added former Jayhawk Keith Loneker, who faced Snyder four times during his career from 1989-92: "You see him leave, the bottom drops out, and everybody thinks it can't be done again, and then he comes back and it picks up steam again. Even before he won a game, the buzz around the campus was that they were going to a bowl, even though they sucked the year before. Even though he hadn't even won anything yet, the shirt sales were back up, ticket sales were back up, and everybody honestly believes each and every week now that they're going to win."
Perhaps the most ringing endorsement of Snyder's method — something of which Long says, "He's always had a model he's followed, he's never wavered from that and look what it's done for him." — was that it not only turned around the K-State program but also went a long way toward turning things around at Kansas.
"Indirectly, he had a big influence on me, through (former KU) coach (Mark) Mangino," Bowen said. "We operated our program almost to a carbon-copy of everything coach Mangino had learned from coach Snyder when he was with him at K-State."
Seeking a story to emphasize just how similar the two programs were, Bowen recalled a conversation he had with Joe Bob Clements, a man who both played for and coached with Snyder at K-State before spending one season as KU's defensive-line coach.
"Holy cow, I just stepped back into the Twilight Zone. This is K-State all over again," Bowen said, paraphrasing Clements' words after joining the KU staff.

Though it seems obvious why Snyder, who owns a 14-4 career record against Kansas, would have the respect of the Jayhawks, the admiration and appreciation for the three-time national coach of the year goes well beyond the boundaries of the state of Kansas and even extends outside of the Big 12.
"To me, the best football coach in the country is Bill Snyder," said former Kansas City Chiefs coach Dick Vermeil.
Added Oklahoma coach Bob Stoops, who was an assistant under Snyder before winning a national championship at OU: "He means as much, or more, (to his school) than anybody that's at any other school in the country."
More like this story on KUsports.com