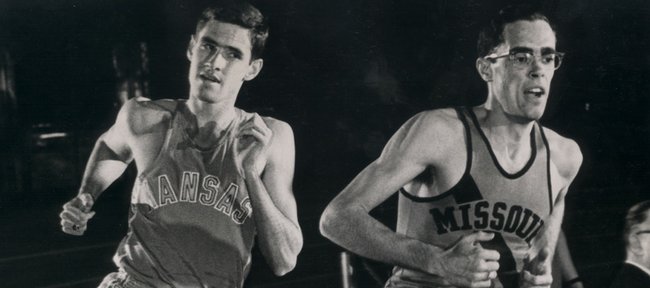 The adidas-351 track spikes bear the numbers of Jim Ryun's world-record mile (3:51.1) that stood for more than seven years, but Ryun didn't always have shoes named after him.
Sub-four-minute high school milers
Jim Ryun, 3:59.0 (1964)
Tim Danielson, 3:59.4 (1966)
Marty Liquori, 3:59.8 (1967)
Alan Webb, 3:53.43 (2001)
In fact, he didn't always have shoes on his feet.
During Ryun's sophomore year at Wichita East High, coach Bob Timmons had the team experimenting with running cross country barefoot. On many courses, prickly weeds could make that a painful, even dangerous practice, but Timmons had a solution for that in preparation for the state meet in Emporia.
"The course was around the airport, and a couple of weeks before it, coach Timmons had us dig all the rough spots, the prickly stuff, out of the course so we wouldn't hurt our feet" Ryun remembered. "We did all that digging for nothing. There was freezing snow on the ground the day of the race, and we ran barefoot in the snow."
In those days, parents of high school athletes didn't bring as much oversight/interference as today.
"In our day it was, 'OK, coach, what do we need to do?' and we'd do it," Ryun said. "Running barefoot today you might have a lot of questions about that."
Timmons, who also coached Ryun at Kansas University, was noted for putting runners through rigorous workouts, the likes of which never would be tolerated in today's world, especially at the high school level. Ryun never has complained, and his records prove Timmons' methods worked for him.
Less rigorous training methods for young runners is one theory offered as to why even today's elite high school runners can't seem to break the four-minute-mile barrier any more. Another reason: The distance isn't run as often, usually replaced by the 1,600 meters.
Ryun, the first high school runner to break the four-minute barrier, would like to see high school runners push themselves to break the magical mark. He has joined hands with adidas in promoting the Jim Ryun Dream Mile, which made its debut last June in New York City with boys and girls races that brought together the best high school mile runners.
Ryun became the sub-four-minute high school miler in 1964 at the Compton Relays. Tim Danielson (1966), Marty Liquori (1967) and Alan Webb (2001) are the only others. Ryun remains the only runner ever to break the four-minute mark in a high school-only mile.
This year, Ryun said, there will be three regional qualifiers in advance of the final in New York. The final one, Ryun revealed, will be at the Kansas Relays, the others in Southern California and Orlando.
In Ryun's prime, track and field was a mainstream sport all the time, not just in Olympic sports. What, Ryun was asked, needs to happen to bring back the sport's popularity?
"I don't know that there's any formula I can turn to, however, I really feel an event like this has the potential to generate more interest," Ryun said.
The more ears that hear Ryun's story of how he got started in the sport could lead to a serious growth in participation at the high school ranks. He didn't start out as a superior athlete. Quite the contrary.
Cut from the baseball team in grade school, Ryun said he was tall entering the seventh grade.
"The gym teacher was also the basketball coach," Ryun said. "He invited me to try out. I was thinking I was going to be a famous basketball player and make a lot of money. Halfway through the first practice, he told me to hang my jersey on the door. He cut me before the first practice was over. He was only doing his job."
When he was in junior high and holding his grandmother's Bible, Ryun said a quick prayer: "Dear God, if you've got a plan for me, I wish you'd show up soon with it."
Ryun went out for track in junior high and had a plan to stay one step ahead of the chopping block.
"I started out as a sprinter," Ryun said. "As soon as it was time for the coach to come up and cut me, I switched to the hurdles. Before he could cut me, I did the pole vault. And when I was about to get cut, I became a high jumper. I rotated all around so that I wouldn't get cut. Once I got to the quarter-mile run, I survived."
He remembered his first quarter-mile race on a cinder track.
"We never trained for it," he said. "They'd bring out the pistol and shoot the gun to start it. The first part was great, the last part terrible."
The first time Ryun was clocked in the mile, he said, he ran 5:38. That number and every other milestone mile of his life is printed on the rim of the adidas-351 spikes. There also is a Ryun-inspired line of clothing adidas is marketing that will be worn by the KU track and field athletes.
Ryun's high school mile record of 3:55.3 stood until Webb broke it with a 3:53.43 in 2001. Don't look for anyone to challenge that mark this year, but it won't be because Ryun isn't rooting for it to happen.
More like this story on KUsports.com