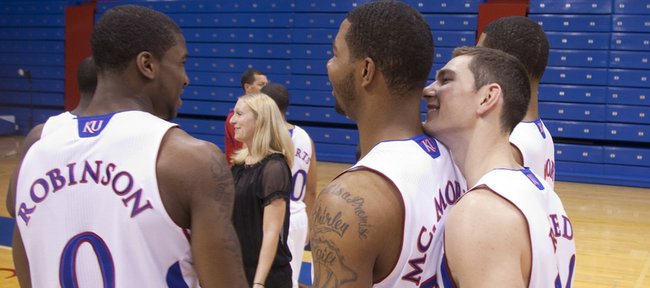 Poll panic?
Eighth-year coach Bill Self understands why Kansas State, not KU, was recently tapped No. 1 in the Big 12 preseason coaches poll.
"We lost two lottery picks (Cole Aldrich, Xavier Henry) and the winningest player in the history of the school (Sherron Collins)," said Self, whose six-time Big 12 champs were selected second.
"Kansas math is unique, but usually you don't get better by losing that," Self cracked of "math" that suggests KU should improve on last year's 33-3 mark.
"My first year ... you lose (Nick) Collison and (Kirk) Hinrich, but you are supposed to be better. That's Kansas math. It's kind of the same thing (now). You lose those three, how can you expect to be better? I do think this, 33-3 is a pretty good winning percentage. I don't think this team will do that, to be quite candid. Our goal will be to win every game, but that will be very difficult to do. I do think this team can be as good as last year's when it counts the most. Kansas State will be picked to win, but we are not conceding anything. It'll be a work in progress with this team."
Need for speed
Self on what "excites him" about this year's team: "Without question, 'speed.' From a raw athletic standpoint, I think this is going to be a team that can pressure more and certainly play faster offensively."
Withey update
KU sophomore Jeff Withey, who had surgery to repair a broken bone in his right foot in late September, said he was to have his bulky cast removed today and will be in a walking boot.
"They said I'd be ready for the first game, and that's what I'm planning on," Withey said of the Nov. 2 exhibition versus Washburn.
"He's progressing fine according to the doctors. I don't think he'll be full-go until Nov. 1," Self said.
All about team
Marcus Morris on whether he is the face of the program: "I can be, but I don't want to. I want this to be a family thing and a team thing where everybody is the face of the program, not just one or two players."
Taylor working on being consistent
Tyshawn Taylor on trying to be consistent in college: "I was never one of those guys that was predicting to be one-and-done or two-and-done or even three-and-done player. It's really hard to be consistent in college.
"I think it's more mental than anything with me. I think a lot, and I think too much. If I make a turnover, I'm thinking, 'Don't make another one,' instead of 'make a good play' or 'just play solid.' I think I could be a real good player, and I think I could beat the system, and I'll think I'll beat it (in becoming consistent)."
Releford shooting more
Travis Releford said he put up 500-600 shots a day in the offseason: "I built up a lot of confidence doing that. I feel I'm a shooter, but the type of role I will play is getting out and defending, knocking down open shots and creating for my teammates."
Tidbits
Tyrel Reed, who is working on his physical therapy internship this semester, will graduate in December. ... As recently reported by the J-W, Conner Teahan is on scholarship for his senior year. ... Walk-on Jordan Juenemann did not attend Media Day. Self said he had "some things going on today." He indicated Juenemann would be at Friday's Late Night. ... Assistant Joe Dooley also was not in the house. He was returning from a recruiting trip. ... KU's new uniforms, which do not have the American flag on the jersey yet, will have the flag added soon. ... Self said Thomas Robinson's ceiling is "very high. I think he can be a pro, which is really high." ... Self on the Morris twins' work ethic: "I bet you 30 days this summer minimum, when I got to the office (early in morning), I could hear balls bouncing. I bet 30 times, they'd finished workouts on their own. They get it. They've become two of our hardest workers." ... Self on Thursday's KU-KSU football game: "I think we'll win, and it'll be a great game," he said, then went on to praise the work Bill Snyder has done at KSU.