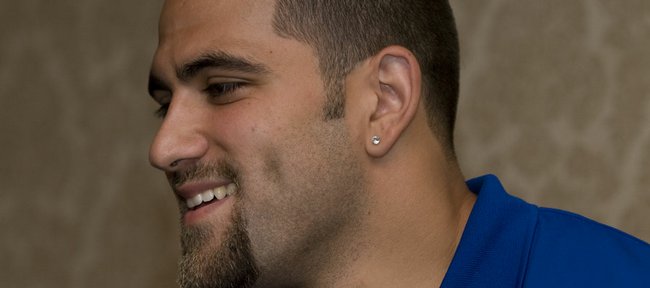 Former Kansas University linebacker Mike Rivera, a 2009 KU graduate and key member of the Jayhawks' Orange Bowl championship team, signed a free-agent contract with the Green Bay Packers on Wednesday and will join the team's practice squad immediately.
Rivera originally was signed by the Chicago Bears in 2009 as an undrafted free agent. He spent last season as a member of the Tennessee Titans' practice squad, but was released at the end of training camp this season after suffering a Grade-1 hamstring injury in practice. That was after Rivera played two quarters in the Titans' second-to-last preseason game — the one in which each team's first-stringers typically play the most — and three quarters in the preseason finale.
Despite the setback, Rivera's agent, James Selmer, told the Journal-World on Wednesday that his client was encouraged to land in Green Bay.
"We do think it's a good spot for him," Selmer said. "He rehabbed, and now he's 100 percent. He just keeps getting better and better. Hopefully he can stay healthy and be in the right situation and, before you know it, be on an active roster."
Rivera, a 6-foot-2, 252-pound linebacker who hails from Shawnee, was one of five linebackers the Packers worked out this week. A three-year starter at Kansas, Rivera finished his college career with 300 tackles, including 26 for loss and 6.5 sacks.
Known throughout his KU career as a blue-collar player who thrived because of hard work, Rivera's focus and skills have improved since leaving KU, according to Selmer.
"Mike's gonna make it," Selmer said. "He's so determined, and he's an NFL-caliber football player. It's just a matter of being in the right place at the right time and staying healthy."
Rivera joins a Packers squad known for its standout linebackers, as A.J. Hawk and Clay Matthews currently are tearing up the league. In addition to having legitimate NFL size — Hawk stands 6-1, 247 and Matthews is 6-3, 255 — Rivera also possesses other physical attributes that have aided his attempt to crack into the NFL. At his pro day at Kansas in 2009, Rivera ran his 40-yard dash in 4.63 seconds. He also delivered a vertical leap of 38.5 inches.
As a member of the Packers' practice squad, Rivera can be activated and added to the team's 53-man roster at any time, as long as the Packers make room for him.
Dish Network not showing KU-Kansas State game
FOX Sports Midwest's media contact, Geoff Goldman, sent out a release Wednesday that indicated Dish Network subscribers in the area would not be able to tune in to tonight's college football game between KU and K-State.
The game will be televised locally on Fox Sports Kansas City and nationally on FSN's network of affiliates, including Sunflower Broadband channels 36 and 236, but will not be available to Dish customers because Dish dropped Fox's 19 regional sports networks on Oct. 1.
Television coverage of the game is slated to begin at 6 p.m., with the Rivalries Live pregame show from Memorial Stadium. Kickoff is set for 6:30 p.m.
FSN to film at The Oread
FSN-Midwest camera crews will be shooting off the top of The Oread's ninth floor, 1200 Oread Lane, during portions of tonight's game. Footage from the new hotel will be run during FSN's pre-game show for their regional and national coverage of the game.
Patti McCormick, The Oread's Director of Media and Special Events, said KU fans were invited to be a part of the festivities.
"If any Jayhawks would like to be on TV supporting their team, this would be a great opportunity," she said.
Stubblefield draws mention
Former KU defensive tackle Dana Stubblefield, an all-Big Eight performer who went on to become an all-pro with the San Francisco 49ers, found his way into a recent piece in the Oct. 18 edition of Sports Illustrated, in which former agent Josh Luchs comes clean about his history of paying college football players throughout his career.
The article, titled, "Confessions of an agent," talks mostly about the negative aspects associated with paying college athletes on their way to becoming pros. However, the portion that included Stubblefield covered exactly the opposite.
"One of the misconceptions about the agent business is that the kids are victims, preyed on by people like me," Luchs writes. "When Alabama coach Nick Saban and others rail against the agent business, they don't mention that most of the time the player or someone from his family approaches us. Guys see that one of their teammates has some cash, ask him about it, and suddenly my phone rings. It was rare to find a player who wouldn't take the money. I put $10,000 cash in front of Kansas' Dana Stubblefield, and he wouldn't take it. I tried to pay UCLA's J.J. Stokes and USC's Keyshawn Johnson, and they said, 'No.' But for every kid who didn't take the money, there were dozens who called me and asked to get paid."
The full article appears on-line at: http://sportsillustrated.cnn.com/2010/magazine/10/12/agent/index.html?eref=sihp.
More like this story on KUsports.com