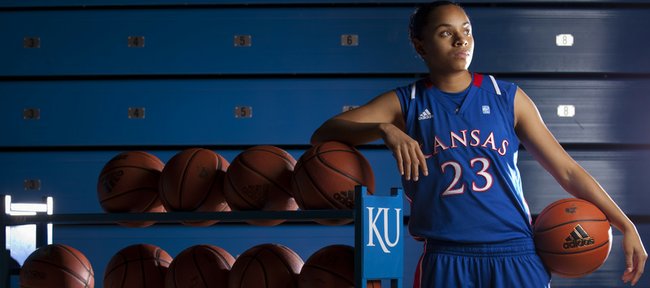 Kansas University point guard Angel Goodrich sat in her stool on the floor of Allen Fieldhouse, a big scar on each knee and an even bigger grin on her face.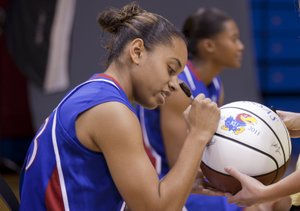 After missing her entire freshman season because of a torn anterior cruciate ligament in her left knee, Goodrich was off to a great start last year before suffering another ACL tear in January — this time in her right knee — which ended her season.
Now with three years of eligibility remaining and medical clearance for full participation, Goodrich is ecstatic about returning to the court.
"It feels great. It's a wonderful feeling," she said at the team's Media Day on Monday. "I've missed it, and once I came back, I was like, 'Wow.' It's just like a relief."
The reaction from her teammates was more of the same.
"I'm very glad to see Angel back," red-shirt freshman Tania Jackson said. "She's all smiles, very vocal. She has so much confidence, you couldn't even tell she had hurt her knee."
"I told her the other day how excited I was when she actually played pickup with us. In pickup, (she) completely changed the tempo. It's just fun to see her smiling and playing — it's a big difference," sophomore guard Monica Engelman said.
Others gushed about Goodrich, who led KU with 106 assists last year despite missing the final 18 games, because of her vision and natural passing ability.
"She distributes the ball well. She sees the floor well. You've kind of got to run with your hands up because you might not be expecting it sometimes," senior guard Marisha Brown said. "But she's a great point guard. She can definitely change the tempo."
Goodrich said her knee felt "good," and that dealing with her first knee injury helped her cope with facing her more recent setback.
"It was tough, just knowing everything you have to go through and everything I did on the first one," she said. "But I knew what I had to do, and I knew what was going to happen or what I had to do. I knew what was coming."
With their playmaking point guard back in the fold, the Jayhawks — picked to finish sixth in the Big 12 in a recent coaches poll — feature a talented young group of players who have coach Bonnie Henrickson eager to get the season under way.
"Where we are right now, I'm absolutely excited with the four freshmen and the returners and the work they have put in this fall. It has been a great offseason for us," Henrickson said to open her news conference.
Along with Goodrich running the offense, sophomores Carolyn Davis and Engelman likely will shoulder most of the offensive load.
Davis and Engleman started last year as role players before blossoming into major contributors.
Davis, who made the Big 12's all-freshman team on the strength of last season's averages of 10.2 points on 71.9 percent shooting, admitted that she experienced jitters as a freshman.
"I don't know if you could tell, but, yeah, I was (nervous)," she said with a laugh. "It just comes down to at that moment, you have to put that all away and make the shot you know you can make."
While Engelman said her focus was on grabbing more rebounds and being more physical, the 6-foot-3 Davis has other ideas.
"I just work on my quickness," Davis said. "I'm trying to be quicker than a lot of the people I play against, so that's what I'm working on."
Davis and Engelman might be growing as players, but with five seniors from last year's team gone — including standouts Danielle McCray and Sade Morris — the Jayhawks need their youngsters to develop into leaders as well.
No worries there.
Goodrich, Davis and Engelman were voted as this year's team captains by their teammates this past weekend.
"All three I think are going to be very good leaders. They'll all lead very differently, and I embrace the fact that I have to help them understand how to lead. But they all want to," Henrickson said.
Throw in returning upperclassmen Krysten Boogaard and Aishah Sutherland, along with four freshmen and Jackson, and the Jayhawks feel they're ready to shake off the lackluster end to last season.
"I can't wait until the season starts," Goodrich said.
Missing
All but two Jayhawk players were present at Media Day. Freshman guard Keena Mays was away because of a death in the family, and Henrickson announced at her news conference that senior forward Nicollette Smith is on a leave of absence for personal reasons.
Smart rookies
Henrickson offered high praise for her incoming freshmen, saying they all have a "high basketball IQ," which has made their learning curve "pretty good so far."
• On Keena Mays: "She can put it on the floor and has vision like Angel does … she's thrown a couple of passes that didn't surprise me, because I've watched (her) play since she was very, very young, but may have surprised some of her teammates, possibly."
• On Brooke JeIniker: "Probably been the most consistent of the freshmen … she brings us the much needed ability to knock down a three and space the defense."
• On Diara Moore: "Defensively I think she can find a niche for herself and get on the ball and be a good defender."
• On Carlicia "CeCe" Harper: "(She's) shot it well from three, she's made plays off the dribble."