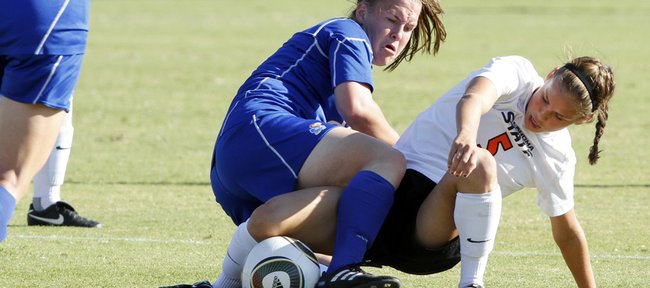 Kansas University and Oklahoma State staged a defensive
soccer battle on Friday at the Jayhawk Soccer Complex.
OSU's defense just happened to be a little bit better.
The No. 7-ranked Cowgirls beat KU, 2-0, to improve to 12-1-1 overall, 5-0 in the Big 12. KU fell to 5-8 and 1-4.
"I'm a little bit disappointed. I thought in the second half we played very well," Kansas coach Mark Francis said. "I told the girls that based on the second half we deserved a little bit more out of the game. But give them credit: There wasn't that many clear-cut opportunities in the game for either team."
The Jayhawks managed to hold Krista Lopez, the conference's second-leading scorer, to just a single shot. However, offense was sparse on both sides of the field as the two defenses stymied nearly every attack.
OSU outshot the Jayhawks, 10-8.
Kortney Clifton and Whitney Berry paced the Jayhawks with two shots each. Berry, Madi Hillis and Emily Cressy each registered a shot on frame.
"I think we have to be a little bit more clinical in the final third of the field," Francis said. "Our final pass and our final ball at times needs to be better."
In the 66th minute, the Cowgirls broke through when Kristen Kelley intercepted Kyndall Treadwell's blocked shot and placed it into the near side of the net to put OSU up 1-0.
"We made a mistake and allowed a goal, so at that point we have to be kind of creative and take some chances," Francis said.
Hillis heeded her coach's advice and took a chance on a hard shot from the middle of the box a few minutes later. Hillis aimed just to the left of goalkeeper Adrianna Franch, causing her to bobble the ball, but she recovered it for the save.
The second goal came in the 86th minute when Megan Marchesano broke away from her defender and dribbled past goalkeeper Kat Liebetrau to give the Cowgirls a two-goal advantage with just four minutes left to play.
More like this story on KUsports.com