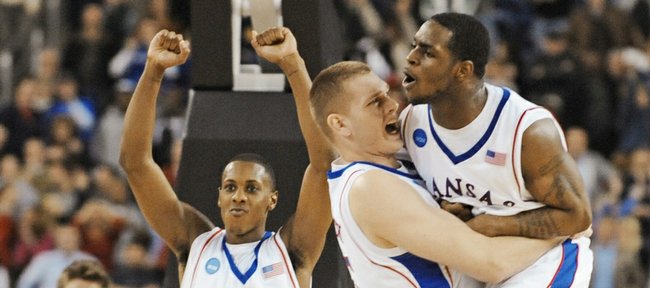 Kansas City, Mo. — Oklahoma City Thunder rookie Cole Aldrich expects to see a lot of Crimson and Blue in the Sprint Center stands tonight.
"I am really looking forward to the fans," said the 6-foot-11 former Kansas University center, who tonight plays his second game as a professional in the Jayhawks' home away from home.
Oklahoma City, which also has injured and unavailable former KU forward Nick Collison on the roster, takes on Mario Chalmers' Miami Heat in an NBA exhibition starting at 7:30 p.m.
"It's always fun to get back, (but) I've only been gone six months," Aldrich said. "Nick's been gone a little longer. He played back here four years ago with the Sonics (in preseason game against Chicago in Allen Fieldhouse)."
The 6-foot-10 Collison won't take the court tonight in a game featuring phenom LeBron James, formerly of the Cleveland Cavaliers, now with the Heat. Seven-year veteran Collison is being rested all preseason because of a bone bruise in his left knee.
"The rookies will probably play a lot," Aldrich said of the preseason — one in which he plans on trying to soak up as much knowledge as possible. "Just to continue to understand the NBA game a little more," he added of his goals. "It's a difficult transition. There's a lot more spacing and guys are bigger and stronger. You have to go out every day and try to learn as much as you can."
Coach Scott Brooks told the Daily Oklahoman that Aldrich has arrived with strong knowledge of fundamentals.
"He's going to be a guy who sets screens, who moves the ball, that's going to give us extra possessions. Those are the most important things," Brooks said. "Defensively he has to protect the basket and do what he's done in college — protect it and block shots.
"Scoring, I'm not looking for much out there other than creating opportunities offensively off of rebounds and guys dropping it off. He has great hands. He just has to work on catching and finishing around the rim."
On the other side of the court, Mario Chalmers, who has fully recovered from a high left ankle sprain he suffered in July, begins his third season in Miami.
"We'll probably send some texts back and forth, talking a little smack to each other," Aldrich said of he and Chalmers. "It's an exhibition game at the Sprint Center. We're looking forward to having a good time," he added of the contest that counts in nobody's record books.
Chalmers this year takes the court with the Big Three — Heat veteran Dwyane Wade, who is injured and won't play tonight, as well as newcomer phenoms James and Chris Bosh.
"It will be fun," Chalmers said of tonight's proceedings. "Last year we played New Orleans and me and Julian (Wright) got to come back (to Sprint Center). With how big the Big 12 is around here, Cole, Nick and myself from Kansas and Kevin Durant (OKC) from Texas ... it'll be a lot of fun."
He realizes he'll be under the radar on a team that boasts three of the NBA's finest players.
"I think it's good. It's kind of different. I've been with other guys for two years. It's like starting all over — a new team and new energy," the combo guard said. "I know as a young player you look to players like LeBron and Dwyane and Kobe ... to be on their team. To be with two of the three is great."
Collison on Aldrich: "In the NBA, guys will do whatever they are capable of doing. It's kind of find your own way as a player. Cole has a pretty good skill set now. He'll continue to get better."
Collison to the Oklahoman on his own injury: "There are some things that need to heal. They're pretty confident (it will), but the decision was made it's better to rest now and get over it (rather) than to push through it and deal with it all year. It seems to make sense. It's frustrating to get over the surgery (offseason on the right knee) and feel good about that knee, and then have to sit out."
Starting slot on line: Chalmers will battle veteran Carlos Arroyo for a starting point guard spot.
"Carlos and 'Rio controlled the game," LeBron James said of the Heat's exhibition opening victory over Detroit on Tuesday, a game in which Chalmers hit for 10 points with seven assists in 20 minutes.
"Even though in the box score and the praise it's LeBron and D-Wade and Chris Bosh and Udonis (Haslem), we all had great games statistically, but those two guys controlled the game and that's why we were able to get out and do the things that we had to do," he added in an interview with the South Florida Sun-Sentinel.
Chalmers will seek an NBA title in his third season.
"I don't have an NBA ring. I need one of those to go with my Jayhawk ring. Hopefully we can get one this year," he told the Journal-World.