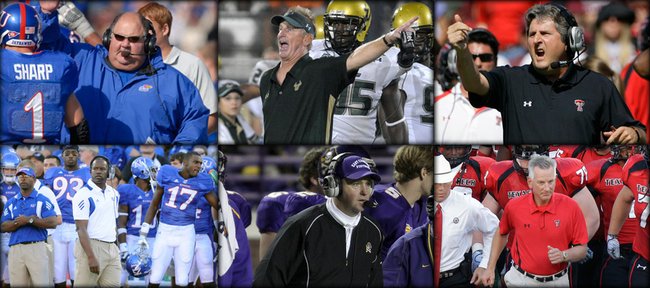 "Only the person who has experienced light and darkness, war and peace, rise and fall, has truly experienced life." — Stefan Zweig
There was a time, not long ago, when the football programs at Kansas University, Texas Tech University and the University of South Florida lived only the positive side of that saying and led charmed lives just a step below the bluebloods of college football.
Sure, each dealt with losses from time to time, but, overall, the programs were relevant, the wins came with regularity, and each had a strong leader in place as its head football coach.
Together, Mark Mangino (KU), Mike Leach (Tech) and Jim Leavitt led their teams to 228 total victories, an overall winning percentage of .606, 19 bowl appearances and 11 bowl victories in 31 seasons.
The lasting legacy for each, however, might have been the way he left his school, not what he did while he was there. Less than 10 months ago, and just five weeks apart, each coach was ousted for alleged misconduct, both of the physical and mental variety.
In some cases, the execution was swift. Prior to Texas Tech's appearance in the 2009 Alamo Bowl, Leach was suspended for two days and then fired on Day 3. Mangino and Leavitt — both descendants of the Bill Snyder coaching tree — fell after lengthy investigations, with Mangino resigning on Dec. 3 (to the tune of a $3 million buyout) and Leavitt being fired on Jan. 8.
Though their removals sent mixed emotions roaring through the communities of Lawrence, Lubbock and Tampa, each university acted quickly to bring in a replacement, someone who, through a bright smile and high integrity, could get rid of the pain associated with the scandals; someone who, if given a chance, would strive to erase the stain left on the programs.
At Kansas, that someone was Turner Gill, an up-and-coming star in the coaching world who led a miracle turnaround at the University of Buffalo and was a candidate for several big-time jobs prior to signing on the dotted line at Kansas. At South Florida, Skip Holtz, the former East Carolina head coach and son of legend Lou Holtz, was deemed the right man for the job. And at Texas Tech, former SEC star Tommy Tuberville was given the chance to return to the limelight and restore the Red Raiders image in the process.
Fast-forward a few months, and not all is forgotten. However, many of the details are beginning to fade.
South Florida is off to a 3-1 start and sits atop the Big East standings.
Texas Tech is 2-2 overall (0-1 in the Big 12).
And the Jayhawks, 2-3 overall and 0-1 in the conference, have been up and down.
While each coach is starting to settle in to his new surroundings, all three acknowledge that there's still a lot of work to be done.
"When you're coming into a program, you're trying to have people adjust to how you want things done," Gill said. "It's a whole environment, and everybody has to adjust. It takes time. And I understand that. I understood that when I went to Buffalo. Obviously, we'd all love to have it happen as fast as possible, but it's going to take some time, and we're just going to keep on working."
Such soundbites have defined the Gill era thus far, giving hope to some and ammunition to others. Regardless of how he has been received, Gill plans to stay on the path he knows can work.
"I'm going to coach my butt off to try make sure our players play well every single football game and to try to get them to win every single game," he said. "But that doesn't change if you're at a school for one year or 10 years."
Change was the goal for all three men asked to bring a softer, gentler approach than their predecessors had to their new programs. Gill and Holtz kicked off the metamorphosis in a similar manner.
"I don't think you can get the pulse of a team by talking to the team as a group," Holtz said. "What I did when I first got here was I met with every player on the team individually, and then I had a questionnaire of all the questions that I wanted to ask them. I wanted to give them a stage to talk. I wanted to give them a chance to be able to voice their opinions and what they thought of the program and where we were and some of the things that we needed to do."
Sound familiar? It should. Gill also conducted individual meetings with his new players and passed out a mandatory questionnaire upon his arrival at Kansas. Neither coach is naive enough to believe that a few 15-minute meetings would fix everything. But both saw the step as a vital part of the healing process.
"When we first came in here, there was a lot of hurt," Holtz said. "There were a lot of questions, and I think this team was somewhat divided on the direction the university went, and they needed some leadership. They needed to be pulled back together."
There is no blueprint for how to inherit a program which had fired the previous coach for being too tough.
The "Coaching Football for Dummies" book does not have a chapter that covers that.
Holtz, Tuberville and Gill have done their best to co-author a few guidelines, but each said remaining true to his own philosophy was the key.
"I think you coach your personality, and you can't try and be somebody you're not," Holtz said. "If you sit down and try to run the program the right way, then you have a chance. As I told them when I came in here, 'I chose you, I chose to come here, this is where I want to be. You didn't choose me, and I understand that.' So my job as the head coach was to win them over and sell them on our program and how they fit into it."
Added Tuberville: "My philosophy is be structured, do things on time, play as a team. I do know a little about how it was, but (we're not) to the point where it's totally different. There's not a lot of change. I meet each week with the seniors to make sure we're not wearing 'em out in practice, and we got our legs on Saturdays, that we're having fun and those types of things. Everything in those areas is great.
"What we're doing is we're trying to take a situation and make the best out of it until we get all the parts to the puzzle put together."
Like Gill and Holtz, Tuberville is eager to see his new program take shape. And all three coach every day — as memories of the past are pushed aside for traditions for the future — train one eye on the big picture and another on the present.
"We're not looking forward to next year," he said. "We want it to be done now. I want these guys to have a chance to win some games, and if they keep working like they've been working I think we will."
While the early ups and downs, subtle steps forward and rocky falls back have taken their toll on some, Gill has chosen to remain positive, even in the face of negativity. To him, the good and bad of it all are part of the experience.
"Obviously, I'm not very happy, and I'm disappointed when we don't win games and we don't play well," he said. "I'm just like any other human being. I do have those emotions. But I understand what I'm here to do, and I'm here to develop these young men to play the game of football to the fullest of their levels. It's a process and a journey. I'm still confident and still glad that I'm at the University of Kansas, and we're looking forward to continuing to build this program and do it the right way."