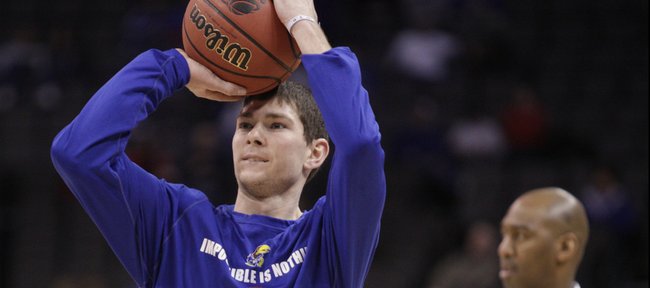 The most fit member of Kansas University's basketball team is dominating Boot Camp conditioning once again this year.
"It's Tyrel. Always Tyrel. Tyrel is always going to be the star of Boot Camp. He's the most conditioned athlete I've ever seen in my life," KU junior Marcus Morris said of senior guard Tyrel Reed.
Reed, a 6-foot-3, 195-pound Burlington native, placed first in each of the many sprints run from 6 to 7 a.m. Monday through Friday in KU's practice facility adjacent to Allen Fieldhouse.
"He's determined to win. I think he almost feels disrespected if he doesn't win," added Morris, who has marveled at Reed's prowess at coach Bill Self's Boot Camp for three years now.
Reed is in a league of his own conditioning-wise.
"The star of Boot Camp? I think every day somebody has had their own day. Of course, Tyrel is the most consistent," junior guard Tyshawn Taylor said.
"I know Jordan Juenemann (junior walk-on) had a good day. Coach told us how impressed he was with how 'T-Rob' (sophomore Thomas Robinson) was in good condition, how Justin Wesley (sophomore transfer from Lamar) was in good shape."
Boot Camp —which resumes Monday and concludes Friday — consists of sprints, defensive slides, backboard touches and more sprints.
"It was a tough week. It's Boot Camp," Morris said. "We've got a lot of team bonding going, I mean (teammates) pushing a lot of guys. Everybody seems like they are in better shape than I was in my freshman year."
Noted Taylor: "I think everybody has come in here with a good attitude: 'Let's get in here, work hard and get out.' The last couple years we had been kind of dreading this week. The locker room was kind of dark and cloudy. We're more focused this year.
"It's tough getting up at 5 o'clock in the morning, but we know we've got to do it, so you might as well go into it with a good attitude. A good attitude makes a big difference in how you do."
Jayhawk newcomers Wesley, Josh Selby, Niko Roberts and Royce Woolridge have fared well.
"They are taking it in, doing the work and not pouting about it," Morris said. "They are taking it as medicine you've got to get past."
"They are doing really well," Taylor noted. "Most of those guys are freshmen. They've got class right after. They've got to go right to class, and that can wear on you. I know. I had to do it my freshman year, too. The freshmen have come in here ready to work."
None of the freshmen has lost his breakfast during the rigorous drills.
One sophomore has headed over to the trash can to hurl after sprints.
"Elijah. Twice," Morris said of Elijah Johnson.
"It's nothing like Buford," he added with a smile, referring to former KU guard Chase Buford, whom the players joked with annually. "Every once in a while, you'd look up and Chase would be by a trash can."
Johnson has been working extremely hard, Morris indicated.
"He's pushing himself," Morris said. "He's trying to win some sprints. Even though he hasn't won any, he's trying. Tyrel is the leader in that."
Johnson and the rest of the Jayhawks will be looking forward to a weekend of rest before trying to catch Reed on Monday.
"We can sleep tomorrow and Sunday. We're right back at it again Monday." Taylor said. "I hope the (second) week goes as fast as this one did. This week went kind of fast, actually."
Hopkins on campus: The Jayhawks played pick-up basketball Friday afternoon with Mikael Hopkins, a 6-8, 215-pound senior power forward from tradition-rich DeMatha Catholic High School in Hyattsville, Md. Hopkins is on campus on his official recruiting visit. He has visited Ohio State officially and Georgetown unofficially and has trips planned to Miami (Fla.), West Virginia and Texas. He will announce his college choice on Nov. 1.