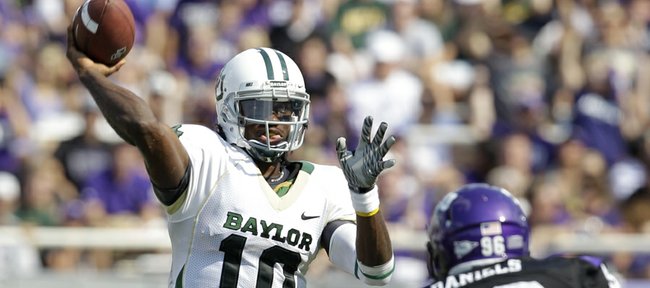 Waco, Texas — Four games into the 2010 season, Kansas University junior Steven Johnson has found his niche within the KU linebacking corps.
Justin Springer's the maniac. Drew Dudley's the veteran. And Johnson's the film-watcher.
Prior to KU's matchup with Georgia Tech in Week 2, Johnson told tales of watching so much video of the Yellow Jackets that he literally had to force himself to shut off the DVD player and go to bed. The result? Johnson made a career-high 11 tackles against Tech, and the Jayhawks upset the No. 15 team in the country.
Johnson was at it again this week, this time with the featured presentation being Baylor quarterback Robert Griffin III, a 6-foot-3, 210-pound nightmare of a man.
It's not so much that Johnson wanted to watch Griffin shred defenses the way Michael Vick or Vince Young used to during their college days. More that he had to watch.
"I've watched at least an hour and a half of their film so far, and it's only Tuesday, and we haven't practiced yet," Johnson said at KU's weekly news conference. "I just try to figure it out, just try to slow the game down for myself."
For the most part, it works, as Johnson often is able to recognize formations and what the offense wants to do. Knowledge is power, and, at least for Johnson, that power has a calming effect.
"It does give you comfort," he said. "I rewind and rewind and rewind, and you can see their formation tendencies. If they're lined up in trips (three receivers on the same side), what do they want to run? And you just feel, when you get out on the field, that 'OK, I know this formation, there's only a couple plays they can run out of this.'"
Of course, when facing a quarterback such as Griffin, who is as dangerous with his legs as he is with his arm, all the knowledge in the world matters little. In the end, it comes down to execution.
"It's all about being in position, technique, executing your job," Johnson said. "Because the coaches put us in great calls."
KU coach Turner Gill said the key to containing a guy like Griffin — whom Gill said likely would never be completely stopped — was tackling.
"You have to have a lot of people around the ball," Gill said. "(Baylor is) going to try and get him in a situation where he is one-on-one with somebody, and I'd say that, more times than not, he's going to win that battle. We have to try and prevent him from having that opportunity. We have to have at least two, three or four guys around the ball and make tackles. When we have an opportunity to make that tackle, we need to make that tackle."
Defensive coordinator Carl Torbush, who consistently treats the construction of each week's gameplan as a thrilling challenge, admitted that there was very little about scheming to stop Griffin that got him smiling.
"Quite honestly, I wish he wouldn't play this week, then I'd get real excited," Torbush said.
Through four games, Griffin has thrown for 971 yards and rushed for 157 more, while tossing eight touchdowns and adding three more on the ground.
"He's gaining confidence and composure and gaining schematically," Baylor coach Art Briles said. "Robert is going to be disciplined, determined, dedicated and coachable. He's going to progress as each week goes on."
A scary thought, to be sure, one that Torbush admitted had crossed his mind as he watched film on the dynamic playmaker in preparation for today's 11 a.m. kickoff at Floyd Casey Stadium.
"The last couple of games, I feel like he's shown the speed and quickness that he showed when he was a true freshman (in 2008), when he was trying to make a name for himself," Torbush said.
That season, Griffin breathed life into a Baylor program dying to be relevant by throwing for 2,091 yards and 15 TDs and rushing for 843 yards and 13 touchdowns.
Because of what he was able to do that season, many pegged him as a running quarterback who happened to make a few throws. However, according to Torbush, that's the most common mistake people make when facing Griffin: They treat him too much like a pure runner.
"I don't think they want him scrambling a great deal," Torbush said. "The runs he's made have been just because he's had to take off and run. You've always gotta be concerned, if you cover real well, of him taking off down the field. That happened to us a couple weeks ago against Southern Mississippi. We let the quarterback step up, I think, three times for 10-yard gains. This week, those 10-yard runs are going to turn into 30- or 40-yard gains, and we can't let that happen."
The best way for the Jayhawks to prevent that — against Griffin or any other dual-threat quarterback they encounter as they move through the Big 12 portion of their schedule — is by making sure that everyone on the field is working toward a common goal.
"It's still all 11 (defenders)," Torbush said. "I wish I could pinpoint it, but for us to win the ballgame, all of them are going to have to play well."
Added senior safety Olaitan Oguntodu: "The success that we had against (Georgia Tech QB Josh) Nesbitt was because everyone did their job. We are a defense that believes that if everyone does their job, we will be OK. That is how defenses work. They are supposed to dictate to the offense what they should take. As a group, if each of us takes care of our responsibility, we will be OK."
Of course, Torbush, Gill and the rest of the KU coaching staff will do their best to incorporate a couple of schemes that might help slow Griffin down. The key to those?
"We need to make sure we contain him in a way that doesn't let him exploit our defense," Gill said. "But we have to mix it up."
More like this story on KUsports.com