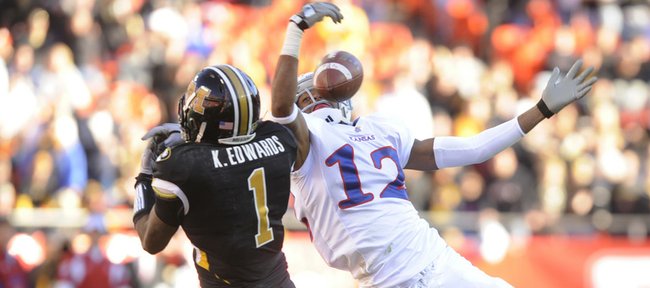 One of the hottest topics of late has been the future of Kansas University quarterback/receiver Kale Pick. Pick opened the season as the team's starting QB and was benched in the fourth quarter of the season-opening loss to North Dakota State. From there, he never really found his way onto the field again until the final two weeks of the season, when he lined up at wide receiver.
Asked after Saturday's loss if he planned to return to KU for his junior season, Pick said: "Um, I have to talk to the coaches and see what they have to say, see what they're thinking for next year."
If Pick chooses to leave Kansas for another Div. I program, he would have to sit out a year before being able to play again. He already sat out one season while red-shirting in 2008 at KU. However, if he chooses to transfer to a Div. II school, Pick would be eligible to play immediately.
Should Pick stick with Kansas, what position he would play? KU's coaching staff continually said that the QB position was a work in progress. It remains that way heading into 2011.
"That's something we've got to get figured out," Pick said. "See what happens, see what the coaches think and who they want to go with."
Would Pick be an option?
"I'm not sure yet," he said. "I'm undecided."
Gill talks Border War
Last Tuesday, KU coach Turner Gill said he would wait to comment too much on the Border War rivalry until he had actually been through it. So, what did the first-year KU coach think of the storied showdown?
"It's intense," he said. "I felt excited, and I'm excited to come back here next year and play in this rivalry. Guys played hard on both sides of the ball. It's a physical game."
McDougald strong at safety
Sophomore Bradley McDougald started his second straight game at safety Saturday. And for the second game in a row, the former wide receiver was among the team leaders in tackles with five.
He also added an interception and looked comfortable in the secondary.
"Coaches did a great job all week making sure guys were going to be in the right position," McDougald said. "We had a couple of their route patterns down, their route techniques down, which made it easier for me back there at safety."
Sims falls short of 100
Last week, Gill pointed to 100-yard games from freshman running back James Sims as the common denominator in KU's three victories this season. The idea, then, was for the Jayhawks to give Sims enough carries to reach that mark Saturday.
However, Sims and the KU offense came up short, as KU's leading rusher finished with 82 yards on 21 carries against Mizzou.
Asked if he thought Sims received enough touches, Gill said: "Probably not. When you don't have a lot of drives to get repetition in a game, then you aren't going to be able to get the number of carries to a certain person that you would like. In this case, James Sims."
For the season, Sims finished with 742 yards and nine touchdowns. His yardage total places him third on KU's all-time freshman rushing list, and his nine TDs are the most by a freshman since June Henley recorded 13 in 1993.
Sack masters
KU turned in a season-best four sacks Saturday, the most since tallying five against Texas in 2009.
Senior Jake Laptad's sack in the second half gave him 4.5 for the year and 21 for his career, which put him in second place on KU's all-time list.
More like this story on KUsports.com