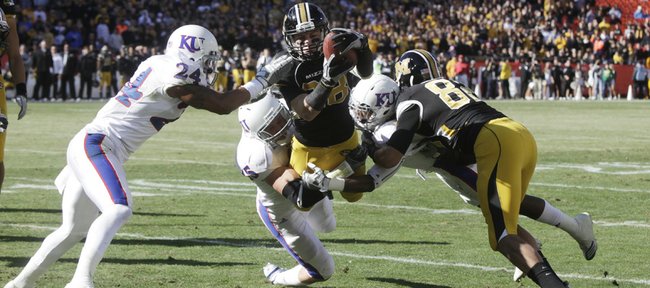 Kansas City, Mo. — Maybe T.J. Moe had it right.
Five days after the Missouri wide receiver drew some heat for saying Kansas University's football team had no advantages in this year's Border War at Arrowhead Stadium, Moe's offense and the entire KU team proved that claim to be true as the Tigers rolled to a 35-7 victory against Kansas.
The Tigers scored touchdowns on three of their first four drives and outgained the Jayhawks 397-141 in total offense. The 141 yards against were the best for a Mizzou defense in the Big 12 era.
"The game was kind of out of hand from the jump because we put our offense in a hole," KU senior safety Chris Harris said. "(Missouri) had a lot of talent, they had a lot of depth, and they had a great offensive gameplan. We let 'em get up 21-0 at half, and the way our offense is playing, we can't let people score like that."
In the fourth straight edition of the Border War played at the neutral site, the Tigers improved to 3-1 against the Jayhawks at Arrowhead. KU's only victory in the past four seasons came in 2008. While those games featured split crowds and eye-popping plays, Saturday's did not. Missouri fans outnumbered those in crimson and blue by at least a three-to-one margin. In all, 55,788 people were at Arrowhead, which holds 79,400.
In many ways, it was the most appropriate ending to a season that ever has been scripted. KU coach Turner Gill's first season mercifully came to a close with Gill's club mixing a few moments of hope with many more moments of despair. Just as had been the case all season, the Jayhawks struggled on offense, threw up little resistance on defense and finished the season 3-9 overall and 1-7 in Big 12 play.
"It hurts," KU sophomore Kale Pick said. "This is obviously one of the biggest games of the season for us. It hurts that we didn't come out on top today, and the game just didn't go our way."
Making his first start in more than a month, red-shirt freshman quarterback Jordan Webb was wildly ineffective. Webb missed open receivers, held the ball too long and was sacked five times. He also suffered a concussion late, which, Gill said, was the reason Gill went to junior Quinn Mecham for the team's final few drives.
Though Webb's play — 7-of-20 for 45 yards and two interceptions — was not the reason the Jayhawks lost, it was a good indicator of the way things went for Kansas.
KU's first four drives all ended badly and each in a different way. A three-and-out to start, which featured two Missouri sacks, came first. It was followed by a missed field goal by KU senior Jacob Branstetter that capped a 12-play drive. Moments later, KU stalled after going for it on fourth-and-three near midfield. And, finally, Webb threw the first of his interceptions on the first play of the next series.
"I need to give credit to Missouri's defense," Gill said. "They are a very good defensive football team. They made plays."
Despite trailing 250-72 in total offense and 21-0 on the scoreboard, Gill said he felt good about his team's chances at halftime.
"I thought if we can keep them to 21 points, we'd be able to come back and win the football game," he said. "Our guys responded with an interception, we came back and scored, but, offensively, we just weren't able to make enough plays."
KU cut the MU lead to 21-7 with 5:42 remaining in the third quarter. Freshman running back James Sims — 21 carries for 82 yards — plowed in from three yards out to give KU some life.
However, the Tigers quickly stamped out KU's chances when Mizzou QB Blaine Gabbert led an 11-play, five-minute scoring drive that pushed the lead to 28-7. Gabbert's one-yard TD plunge capped the drive and essentially put the game away.
Like so many other postgame news conferences this season, much of Saturday's session was spent talking about the big picture. Doing that made the most recent Border War loss easier to take for Kansas because it gave Gill and company a chance to look forward while also pointing out the progress — however small it may have been — that was made in recent weeks.
After being outscored 159-24 during the first three games of Big 12 play (against Baylor, Kansas State and Texas A&M;), the Jayhawks performed much better against much tougher opponents (No. 9 Nebraska, No. 12 Oklahoma State and No. 15 Missouri) to close the season.
KU lost the last three games of its season by a combined total of 103-24.
Despite that fact, Gill was not overly thrilled and looked like a man with a lot of work ahead of him.
"We'd like to end with W's," he said. "We're here to win football games. But I think we improved. No matter what your record is, you want to see your guys improve. Our guys improved every single day and every single week, and we just have to continue to move forward."