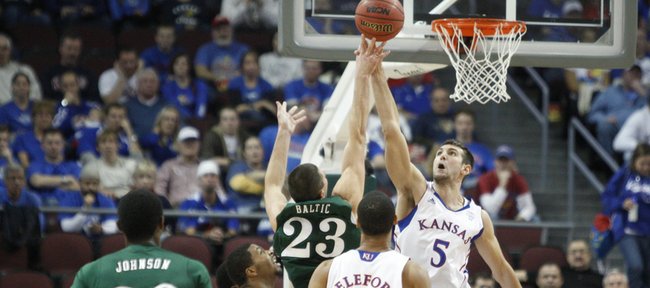 KU vs. Ohio
Las Vegas — Jeff Withey had a good time during his one semester at the University of Arizona.
"I looked at it like a learning experience," said Withey, Kansas University's 7-foot, 235-pound sophomore center from San Diego. He asked out of his scholarship agreement at Arizona following the unexpected resignation of coach Lute Olson, back in October of 2008.
"I had to do what I had to do for me and my family," added Withey, who committed to KU on Christmas Eve, 2008, and, after sitting out two semesters in accordance with NCAA rules, became eligible for the Jayhawks last December.
"I enjoyed my time at Arizona. I had fun at Arizona, but I really feel KU is the right place for me. I've been loving it here."
Withey today will play against his former school at the Las Vegas Invitational.
Tipoff for the matchup between the Jayhawks (5-0) and Wildcats (5-0) is 9:30 p.m. at Orleans Arena.
"It was pretty much just all the coaching (changes)," Withey said of his decision to leave the Pac-10 school for KU. He chose KU the second time around over Texas, Gonzaga, Cincinnati, Indiana, San Diego, San Diego State and Boston College.
"Josh Pastner (now Memphis head coach) recruited me — both he and Kevin O'Neill (now USC head coach). As soon as I got there, they both were gone. Then Lute Olson also left. I didn't know who was going to come in. I wanted to be at a more stable program.
"KU was second on my list at that time. I just felt KU was the right place. I'm really glad I made the move."
Withey, who had surgery to repair a broken bone in his right foot in late September, scored seven points, grabbed eight rebounds and blocked four shots while playing 15 minutes in Friday's 98-41 Vegas Invitational win over Ohio University.
"I think it (recovery) took awhile, but I feel good and back to normal," Withey said. "It's worth the wait."
KU coach Bill Self said that starting with tonight's Arizona game, he might "start parting it (rotation) down," but that Withey figured to remain fixed in the rotation.
"He's our best low-post defender by triple," Self said. "At least he can guard his man better than the other guys. He could get in there and play a lot of minutes. I think we can play 11, but it's a situation the 10th or 11th guy could get five to seven minutes depending on the situation."
He said he might briefly speak to Withey about not being too fired up for tonight's game.
"We need good minutes from him, but it's not like he has to score 15 points and grab 10 rebounds," Self said. "You hear about these type things like Brett Favre going back to play Green Bay. You don't talk about one of the offensive tackles going back to play Green Bay as much. Jeff is one of our rotation guys. He'll be excited to play, but not one of those things where it's a huge factor."
About Arizona
Arizona took an explosive 86.0 scoring average into Friday's late Invitational game against Santa Clara. Sophomore Derrick Williams entered this weekend's action as team leader in scoring (19.3) and rebounding (8.3). He hit 74.3 percent of his shots through the first four games.
Through four games, junior Kyle Fogg averaged 9.3 ppg with 22 assists and nine steals. Sophomore forward Solomon Hill checked in with 8.8 ppg and 5.8 rpg. Senior forward Jamelle Horne (8.3 ppg, 4.5 rpg) and sophomore guard Lamont Jones (5.5 ppg. 3.0 apg) round out the U of A starters.
"They are by far the best team we've played," Self said. "They'll get after us. It will be a big game for them, obviously. I think our guys look at it as a big game for us, too."
The series
KU leads the all-time series with Arizona, 7-4.
In the last meeting, Arizona downed the Jayhawks, 84-67, on Dec. 23, 2008, in Tucson, Ariz. It was a Big 12/Pac-10 Hardwood Series rematch of KU's 76-72 overtime victory in 2007 in Allen Fieldhouse.
Jordan Hill scored 23 points, Jamelle Horne 19, Nic Wise 16, Kyle Fogg 14 for 'Zona. Sherron Collins scored 16, Marcus Morris 12, Cole Aldrich 10, Tyshawn Taylor nine, Brady Morningstar eight, Markieff Morris seven, Tyrel Reed three and Travis Releford two for KU.
"I do remember that game. I remember their zone and in the beginning we were doing well against their zone. The second half they crushed us," Marcus Morris said. KU led, 38-35, at halftime before getting outscored, 43-29, the second half. "They were home. This is kind of a neutral site for both of us. I think it'll be a better game. We've got to play hard. It'll be a real challenge to see how we play against a top team."
"We played them at their place. They played well there. They had Chase Budinger (who had an off night with five points) and other great players," KU's Tyrel Reed said. "We are both different teams. That left a bad taste in our mouth. We're looking forward to competing against them."
"A majority of guys in our locker room were part of that team. They handled us easily. They just wore us out," Self said. "Hopefully we'll play a lot better tomorrow."
Top 'Cat speaks
Arizona coach Sean Miller on playing KU: "When I've watched Kansas play in the past, they play with great intensity," Miller told the Arizona Daily Star. "They're really talented and very well coached, but they have high expectations of themselves, and they really play hard every game. They play hard every possession. They're physical.
"You can't really say they're better on offense than defense or better on defense than offense. They're one of those programs that are really good and excel in both areas. When their offense isn't working, they're able to stay in games and sometimes win games with their great team defense. Then once in a while if they break down defensively they're able to offset that with good execution and togetherness. When they have both working they are at a Final Four level. It's early in the season. I'm sure they're working through their things on their team must like we are, but we're going to be playing one of college basketball's best teams.
"Withey I haven't really watched a whole lot. I know the (Morris) twins are really physical. They're a load on the glass. They really bring a lot of problems to their opponent."