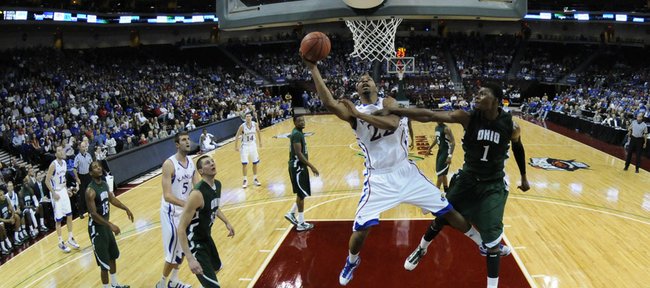 KU vs. Ohio
Las Vegas — Elijah Johnson's dad, mom, brother, sister, high school coach — even his hometown barber — watched in horror as Kansas University's sophomore guard was tackled on a breakaway dunk try late in the first half of Friday's 98-41 rout of Ohio University at Orleans Arena.
"Wow. I was worried. I was worried, but he's tough," Johnson's dad, Marcus, said.
"It kind of got me, because the guy who hit him was a Johnson. I was like, 'Man, we Johnsons don't do that to other Johnsons,''' Marcus added with a laugh.
The Jayhawks (5-0) weren't laughing when Ohio's Ricardo Johnson sprinted toward the exit after getting ejected following the flagrant foul with 1:39 left in the first half.
They were steaming and took it out on the Bobcats (3-2).
"Every time something like that happens, it makes us think about Sherron (Collins). He used to get us so fired up when somebody did something like that, just get us jacked up," said Elijah Johnson, who was OK.
He actually hurt more in the second half after taking a fierce shot to the back from an Ohio player.
"Marcus (Morris) said, 'Now don't let your man score on you, point-blank, period,''' Elijah said.
Johnson — he scored eight points in 18 minutes to the delight of 30 or so close friends and family members in attendance in his hometown of Vegas — wasn't as worked up as his KU teammates.
"I wasn't mad. I went up to dunk, and it got delayed. That's all I know," Johnson said with a smile.
But Marcus Morris?
He was miffed in exploding for a career-high-tying 26 points off 11-of-14 shooting. He had 18 the first half.
"I felt it was a cheap foul," Morris said. "I didn't feel it was intentional, but after that it became personal. Not personal to hurt them, but shut 'em down, not let 'em score. I thought we had to get really, really in tune after that to make a statement."
He was asked if the Jayhawks kept the foot "on the throttle" longer because of the intentional foul.
"Coulda been. I'm not saying it is. We had to turn it up a little more," Morris said.
It was a game in which Travis Releford (three threes first half, career-high 13 points) suffered a scratch on the left side of his face and Ohio's Tommy Freeman got a concussion after one of his teammates ran into a Jayhawk and stepped on Freeman's head. Also, KU's Thomas Robinson was hit with a technical foul the second half for yelling at a Bobcat.
"That wasn't a physical game," KU coach Bill Self said. "Not a game where big guys were lying on each other. There were a couple hard fouls. I think our guys acted chippy, which definitely is a sign of immaturity. Hopefully we can grow up and not let things like that bother us."
Self acknowledged that KU's Johnson "got his world rocked pretty good," when a Bobcat nailed him in the back in the second half. "I thought it was an illegal screen."
Of the intentional foul that resulted in the ejection, Self said: "I told the official, 'Why don't you go to the monitor and see if he got knocked into him or if he took him (Elijah) down. He (ref) said, 'I think he took him down.' I guess it (replay) did show he took him down. They had to throw him out. I think the kid felt bad. They came and apologized."
As far as the actual basketball played in the game, Ohio went 0-for-18 from three-point land on a night KU hit nine of 23 treys. KU's Brady Morningstar even hit a three on a lob pass attempt to Morris.
"The ball stuck in everyone's hands," Self said. "That was the weakest performance for a big blowout win. They (Bobcats) didn't have a ton of great looks. Of the 18 they took, 12 of 'em were probably pretty good looks. We got lucky they missed."
KU (5-0) will meet Arizona at 9:30 tonight in the final game of the invitational.
More like this story on KUsports.com