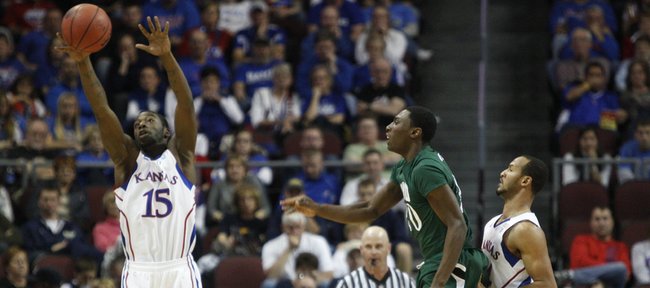 KU vs. Ohio
Las Vegas — Brady Morningstar lofted a pass toward Marcus Morris early in Friday's Las Vegas Invitational game against Ohio University.
The pass missed its mark. It fell through the hoop for a three that gave KU a 7-2 lead.
"Brady's pass ... that was so awful. It was so bad it went in," KU coach Bill Self said.
Asked about the pass, Morningstar cracked, "What pass?"
Was it a shot?
"Yeah," he said, adding, "Nah. I mean we just ran this play. It was so wide-open. I wanted to throw it to him quick as I could. I kind of threw it too close to the rim, and it went in."
Will it show up on YouTube?
"Who knows? It's probably up there already," Morningstar said. "It's three points instead of two, even though it's a bad pass."
No decision: Ben McLemore, a 6-foot-5 senior guard from Oak Hill Academy in Mouth of Wilson, Va., will not orally commit to a school this week, his cousin tells Rivals.com. He may make a decison over Christmas break.
Stats, facts: No attendance figures were announced. Of the 5,000 or so fans in the arena, 95 percent had to be KU fans. ... The Bobcats' 41 points tie the lowest point total by a Jayhawk foe in 2010-11 (Texas A&M-Corpus; Christi also scored 41). ... Ohio became the second KU opponent without a three-point field goal this season going 0-for-18 from three-point land. North Texas went 0-for-12 from beyond the arc. ... The Bobcats' 23.7 percent field-goal shooting was the lowest by a KU foe this season. ... The Jayhawks opened the second half with a 17-2 run in just over the first five minutes to take a commanding 60-22 lead and later scored 19 unanswered points with just over seven minutes to go. ... Markieff Morris hit seven of eight free throws to tie a career high. Markieff tied a team high with eight rebounds. ... Jordan Juenemann played a career-high eight minutes and scored a season-high five points.
More like this story on KUsports.com