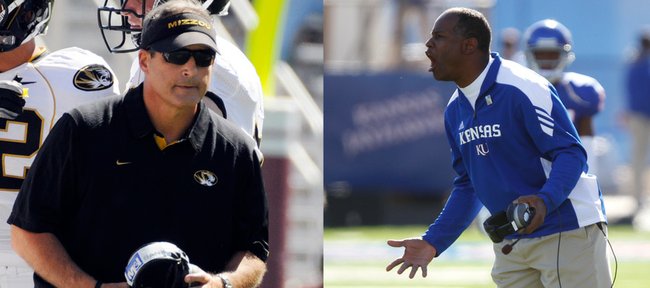 Although Missouri coach Gary Pinkel has been through nine of these and Kansas University coach Turner Gill is preparing for his first, the two football coaches navigated similarly speedy paths to understanding exactly what the Border War rivalry was all about upon being hired at their respective schools.
For Pinkel, hired by MU in 2000, word of the Kansas-Missouri rivalry popped up quickly and didn't slow down for several months.
"I figured it out right after my press conference," Pinkel said. "At every function I went to for the next three months, public relations-wise, everybody would come up and say hello and welcome and the first thing they would say was, 'Beat KU.' That took me off guard a little bit because, at the time, Mizzou wasn't doing very well and I just couldn't believe that a rivalry at a program that had been struggling was so huge. But I figured that out real quick."
For Gill, a glimpse into the Border War surely came before his introductory press conference. If not, how else could "Beat Missouri" have been second on Gill's list of priorities that day last December?
Asked if playing the Tigers at Arrowhead Stadium in Kansas City, Mo., in the final week of the season would feel like KU's bowl game this season, Gill was direct with his response.
"I think from the magnitude of the people, the Kansas alums and the students, I don't think it would matter when this game would be played," he said. "It's definitely a big focal point for this football program along with the people in the community and all the alumni on both sides."
The first official chatter from the KU locker room emerged after last Saturday's 48-14 loss to Oklahoma State. While the Tigers were celebrating and summarizing their 14-0 victory at Iowa State, the Jayhawks (3-8 overall and 1-6 in Big 12 play) were busy looking ahead.
Red-shirt freshman receiver Chris Omigie, who had career-best marks in Saturday's loss, showed with his words that he was more than ready for his first Border War.
"It's real exciting," Omigie said. "We're going for blood this week. We're going straight for blood. We're going at their throats."
The Tigers first began talking about this year's showdown last summer at Big 12 media days in Dallas.
Asked if Gill's nice-guy image would take some of the luster off of the bitterness that defines the rivalry, Pinkel referenced Gill's alma mater and some of the heated rivalries that Nebraska's been a part of.
"Tom Osborne's a nice guy, too," Pinkel said. "And he did pretty good."
Added Mizzou defensive back Kevin Rutland: "I really don't look at it like that. He's come into a rivalry that he's been thrown into. Our rivalry's not going to change due to him being there. I wish him the best of luck, but we'll see what happens when we meet."
While the outcome of the 2010 seasons has made Missouri (9-2, 5-2) a 241⁄2-point favorite for Saturday's 11:30 a.m. kickoff, the rivalry's recent history suggests that both teams have a legitimate chance.
In 2008, KU was just 6-5 heading into the Border War against the 12th-ranked Tigers. But a spirited Jayhawk effort, culminating with a fourth-down touchdown pass from Todd Reesing to Kerry Meier in the snow, gave Kansas the victory.
Kansas went on to rock Minnesota in the Insight Bowl and finished the season 8-5.
Pinkel remembered having a good team that year. One of his best, he thought. But the emotion, energy and excitement surrounding the Border War trumped that. Pinkel expects a similar scene Saturday.
"In 2008 I thought we had a really good football team and we go in there and Kansas beats us," Pinkel said. "And we barely won last year. With this game, you can throw everything out the window. Both teams will compete just because of the rivalry, both what's been created and inherited."
More like this story on KUsports.com