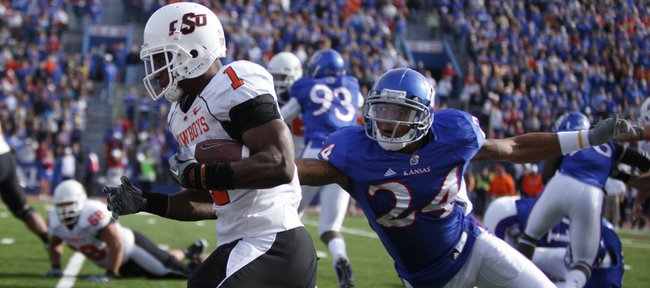 In some ways, it has been the theme of the 2010 Kansas University football season, even if nobody thought it would be.
Players changing positions has become the norm at KU during the past few seasons, and the most recent shifts showed up Saturday, when four Jayhawks were in new spots during a 48-14 loss to No. 12 Oklahoma State.
A couple of the moves — sophomore quarterback Kale Pick to wide receiver and freshman running back James Sims stepping in to take snaps in the Wildcat formation — seemed minor, as neither was on the field often in his new role. Red-shirt freshman Kevin Young also played a new position Saturday, moving from defensive end to defensive tackle.
But there was one position change that had a big impact. Wide receiver Bradley McDougald's slide over to safety seemed to be done with an eye to the future.
McDougald, 6-foot-1, 195 pounds, hails from Dublin, Ohio, and was recruited out of high school by Ohio State as a safety. He came to Kansas largely because then-KU coach Mark Mangino offered him a chance to play wide receiver.
Now, though, after back-to-back seasons without a bowl appearance and a stretch that has included 15 losses in 18 games, McDougald is starting to think more with his mind than his heart. Credit KU coach Turner Gill for giving him the opportunity to do so.
"Coach Gill put it in my hands, whether I wanted to even take the chance at safety," McDougald said. "He made it clear that it was my choice. I actually made the decision a long time ago, but I'm gonna be wherever the team needs me to be, and that was on offense. But it was finally time for them to switch me over so I took it in stride."
Starting at strong safety, McDougald finished with eight tackles and delivered both good and bad moments against OSU. At times he looked strong, fast and athletic. At others he looked out-of-position and unsure. For the most part, though, those around him were impressed.
"I think he has potential," Gill said. "We believe he has some athleticism. I would just like to get him another ballgame, particularly against these two teams (Oklahoma State and Missouri) who throw the ball and have some talented receivers. We just want to evaluate him here in these two ballgames, and that'll help us decide."
Added senior Chris Harris: "I thought he played really well. And he's just gonna get better. It's kinda hard being thrown in there at safety because you're pretty much like the quarterback back there. (Oklahoma State) definitely came at him."
Injury/QB update
Gill said Sunday night that he and offensive coordinator Chuck Long had not decided who would start at quarterback Saturday against Missouri at Arrowhead Stadium in Kansas City, Mo. Quinn Mecham has started KU's last four games, and Jordan Webb started the six games before that. One of them will get the call for KU's finale.
"We're gonna try to play the best guy that gives us an opportunity to win," Gill said.
In injury news, the severity of offensive lineman Sal Capra's ankle injury remained unknown Sunday night.

"It'll probably be the middle of the week before we know the true status of it," Gill said.