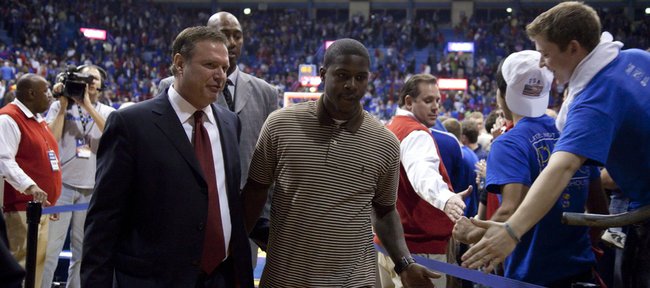 It's not Josh Selby's No.1 ranking in his recruiting class that made Friday night's news so significant. It's that he's precisely what Kansas lacked to be viewed as a legitimate contender for a national title.
When Selby joins the lineup Dec. 18 for the USC game in Allen Fieldhouse, don't expect him to be the best player on the floor. Marcus Morris, a bona fide first-team All-American candidate, has the edge there. He showed that when he went on a scoring binge during which he scored 16 of his 20 points in the opening nine minutes of the second half. He's a junior, is in his third season of intense daily coaching, his third year of learning how to fit in with other talented, driven athletes.
So is his twin, Markieff, a perfect example of how much better college basketball players get with experience.
But the one thing the twins can't do is run a team from the point.
It was during the final half of the first half of KU's 93-60 blitzing of North Texas that it became evident just how much this team needs Selby, who watched the game in street clothes and will continue to do so until he is activated Dec. 18 for an 11 a.m. game against USC on ESPN.
Tyshawn Taylor committed his second foul, a senseless one, and headed to the bench with 8:33 left and his team up 10 points.
The ball movement wasn't the same with Taylor on the bench, and neither was the defense. He had done a great job in neutralizing North Texas point guard Josh White, who had scored 32 points to lead the Mean Green to an overtime victory against Texas Tech.
Brady Morningstar played a terrific game, helping to trigger the blowout with active hands on defense on his way to a seven-point, 10-assist, four-steal night. But when used at the point, he didn't look like a natural. Elijah Johnson took his turn, spaced out on a defensive possession and was sent back to the bench. KU's lead, which had reached 14, was cut in half by a 90-second, seven-point UNT run.
In time, probably not much time after he starts playing, Selby will do more than fill in for Taylor. They'll form the starting backcourt, joiningthe twins and either Tyrel Reed or a third big man. The Jayhawks will fly up and down the court, have at least three, sometimes four skilled three-point shooters on the floor. They'll be extremely hard to guard, which means if they work extremely hard on guarding, they'll be a nightmare to face.
The twins both spoke to how well Selby, who has been participating in practices, already blends.
"He's intense just like we are," Markieff said. "He's going to fit in perfect with us."
Marcus agreed — they always agree — and talked about the source of the intensity.
"Josh is an inner-city kid from Baltimore, just like I'm an inner-city kid from Philadelphia," Marcus said. "We just mix every time we talk to each other, even in practice. When he plays, he's going to look like he's played the whole time. He's going to be another weapon nobody's seen yet."
One week before Christmas, the wrapping comes off Josh Selby. A month or so later, he'll start to show the reason for all the fuss.