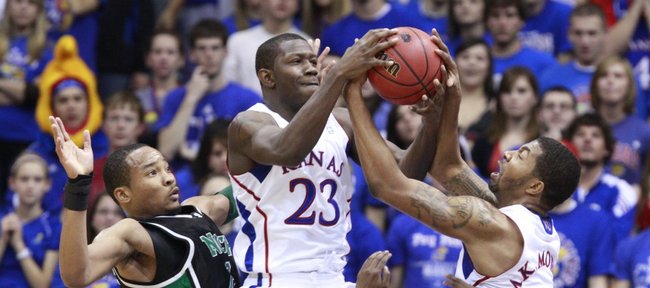 In the process of extended its homecourt winning streak, Kansas University ended an even longer streak in its 93-60 basketball victory over North Texas on Friday night.
For the first time since the 1987-88 season — a span of 635 games — the Mean Green were held without a three-point field goal. UNT was 0-for-12 from three-point range against KU.
"We had some wide-open looks. It is just about us knocking them down," North Texas guard Josh White said. "Part of it was them, and part of it was us."
White, who made 38.8 percent of his three-pointers last season, finished 0-for-3 from long range. His teammate, Tristan Thompson, was 0-for-6 from three after making 40.4 percent of his treys last season.
"They were very intense defensively," White said of the Jayhawks. "That is something I am sure their coach really harps on."
White said he remembered watching his older brother, Quannas, play KU at Allen Fieldhouse on television when Quannas was a member of Oklahoma's basketball team from 2001-03.
Before the game, Quannas tried to prepare Josh for the atmosphere.
"I expected it to be loud. I expected it to be rocking in here," Josh said. "That's what it was."
Josh, who finished with 10 points on 4-for-13 shooting, was frequently picked on by the fieldhouse fans after he tossed up an airball.
The KU students hounded him with the "Airball" chant most of the time he touched the ball in the second half.
"I've been playing basketball for a long time, and I've gotten that before," Josh said with a laugh. "I can block that out easy."
The chant was harder for his mother, Colette Pate, to ignore while sitting in the first row behind the UNT bench.
Following one of her son's second-half free throws, Pate playfully yelled out, "Airball! Airball!" in the direction of the KU students.
After Josh made his second free throw, she did the same thing, bringing some laughs from the KU student section.
"I've heard her say it before, so it's not surprising," Josh said. "She's always here, man. My No. 1 biggest fan right there. I love her to death."
North Texas coach Johnny Jones was able to reconnect with one of his pupils after the game, as he talked for a few minutes on the court with former KU forward Lester Earl.
Jones was an assistant coach at LSU when Earl attended college there.
As for Friday night's game, Jones said his team never recovered from KU's 23-6 run to start the second half.
"They were just being Kansas," Jones said. "They executed really well, and they shot the ball extremely well. I think they went 6-for-6 from the three-point line at one time. Whenever they are playing like that ... they are a tough team to handle."