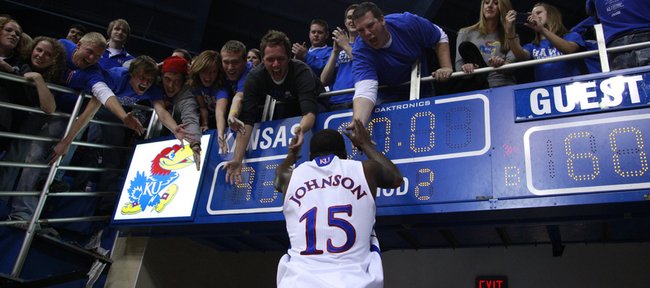 Nick Bradford, who helped Kansas University's basketball team win a school-record 62 home games from 1994-98, forever will remember being in the Allen Fieldhouse stands the night the current Jayhawks tied the old mark.
"I think it's fate I'm here," said shooting guard Bradford, who played at KU from 1997 to 2000.
He was speaking after Friday's historic 93-60 rout of North Texas.
"I just got back from Romania," Bradford said. "It was my first bad experience in eight years playing professional basketball in Europe. I got back and heard this morning they were going for the record so I made sure to get to the game.
"I'm just glad I got to see them tie a record I was part of. It's great. I want it to continue even longer."
He sat in a row behind KU's bench with Lester Earl, Terry Nooner and assistant coach Neil Dougherty, also part of the 1994-98 streak.
"It's a beautiful thing," Bradford exclaimed.
Beautiful would be a way to describe a second half in which KU (3-0) outscored the Mean Green (2-1), 57-33.
Marcus Morris (20 points, 22 minutes) erupted for 16 points, while Elijah Johnson had eight and Brady Morningstar five in a half-opening 31-8 run that pushed the narrow 36-27 halftime lead to 67-35 with 11 minutes to play.
"Coach (Bill Self) said to relax, that it would be my half. I got very fired up in the locker room to try to get my team going," said Marcus Morris.
His brother Markieff (13 points, eight boards) scored nine of KU's first 11 points as the Jayhawks led 11-4 early, stretching that margin to 21-8 and 30-16.
Self also said some things about the streak before and after the game.
"We talked about it," said Self, whose team can break the tie by winning its 63rd straight game Tuesday versus Texas A&M-Corpus; Christi.
"I think the guys are proud of that. I am proud of it. That team that won 62 in a row in the '90s … they had some hard-rocking guys. For these guys to accomplish the same thing … it's good."
The Morris twins definitely were fired up after listening to Self address the streak briefly before the game.
"Before the game, he said it's great to be part of something like this. We need to win to keep this alive," Markieff said after hitting four of six shots and grabbing seven rebounds the first half and finishing with 13 points and eight boards.
"After the game, he said we should feel good about ourselves that we tied the streak. We'll come out and try to break it Tuesday."
"Coach came in and talked about it before the game," noted Marcus, who hit for just four points and two boards the first half, finishing with 20 points and three boards. Marcus had 10 of KU's first 12 second-half points.
"After the game, he told us good job. He congratulated us on it, and we get back to work preparing for Tuesday."
Morris actually scored 13 of KU's first 15 points from the end of the first half into the second. His bucket and a free throw closed the first-half scoring for KU. That bucket was his first after missing four straight to open the game. He hit his next seven shots.
Elijah Johnson, who was playing in his first game of the season after being held out the first two games for disciplinary reasons, netted a career-high-tying 11 points. The sophomore scored 11 versus Radford last year.
"It was very very important," Johnson said of tying the all-time win streak. "I feel like it was something we owed the fans from before we were born. Everybody cares about the program and the great tradition here."
Morningstar had a career-high 10 assists, while Thomas Robinson matched a season-best and was one shy of a career high with 10 rebounds.
"The first six minutes were great, and the first 10 minutes of the second half were great. There were some minutes in there that weren't very good. The last 10 minutes of the first half stunk," Self assessed. "We did some good things. We did defend their little quick guards better (in the second half).
He was pleased with the fact that Morningstar, Tyshawn Taylor and Tyrel Reed combined for 18 assists and two turnovers.
"That doesn't happen very often," the coach indicated. "Brady also had four steals, and Tyrel had three. Brady was really good today. Marcus needs to get on the defensive boards, but he was good and made shots. Markieff (Morris) got us off to a great start. All in all, you have to have balance when you score 93 points and only three guys are in double figures. That means there are a lot of guys with seven, eight or nine (points)."