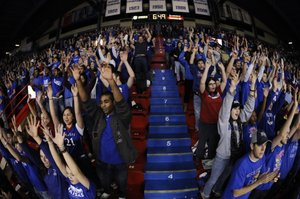 Billy Thomas never experienced the agony of defeat in Allen Fieldhouse in his four-year Kansas University basketball career.
"Fifty-eight and 0: Raef and I and C.B.," former KU shooting guard Thomas said proudly, referring to the undefeated trio of Thomas, Raef LaFrentz and C.B. McGrath.
"It's something I'm proud of to this day," added Thomas, first-year boys basketball coach at The Barstow School in Kansas City, Mo.
He's also mighty proud of the 62-game homecourt win streak he was part of. It's a school-record (1994-98) streak that can be tied by the 2010-11 Jayhawks tonight.
KU puts its 61-game Allen Fieldhouse win streak on the line against North Texas. Tipoff is 7 p.m. with a live telecast on channels 3 and 203.
"Records are made to be broken," said Thomas, who plans on sitting in the stands rooting for the Jayhawks to tie the all-time home win mark tonight. "As a fellow Jayhawk, I always want to see the Jayhawks succeed. There's not one Jayhawk out there who doesn't want to see this accomplished," Thomas added.
The Jayhawks' current 61-game homecourt win streak opened with a 97-70 victory over Kansas State on Feb. 7, 2007 — a rout contested just four days after a 69-66 heartbreaking loss to Billy Gillispie's Texas A&M Aggies. The Jayhawks won four straight to complete the '06-07 season, then rattled off home marks of 19-0, 18-0 and 18-0 to go with this year's 2-0 beginning.
The school-record streak of 62 games opened with an 106-62 victory over Colorado on Feb. 26, 1994, and ended with an 85-81 defeat to Iowa on Dec. 8, 1998.
"I'd love to see the guys break it," said former KU guard Ryan Robertson, regional sales director for Goldman Sachs in St. Louis.
Playing at KU from 1995 to 99, he owns a piece of the record with the likes of LaFrentz, McGrath, Paul Pierce, Jacque Vaughn, Scot Pollard, Jerod Haase, Sean Pearson, Eric Chenowith and T.J. Pugh to name just a few.
"When you are 10 years removed, there's still a little bit of competitiveness with the classes before you and after you," Robertson noted. "But as cheesy as this sounds, you root for your basketball family to do well and have success. Something like this makes you very proud as an alumni."
"God bless 'em. Let's keep it going," exclaimed former KU center Eric Chenowith, an assistant coach at Villa Park High School in California, who played at KU from 1997 to 2001.
"This is one of those things where if you love your school and your program, you want the team to be successful. I hope they double it, triple it," Chenowith added.
The record-setting 62-game streak included some close calls.
"The UCLA game will always stand out in my mind for obvious reasons," Robertson said of an 85-70 victory over the Bruins on Dec. 1, 1995. It's a game in which KU trailed by 15 points and won by 15.
"The other one was Senior Night against Oklahoma, when Paul had such a great performance," Robertson added of Paul Pierce. The Boston Celtics standout exploded for 31 points off 14-of-17 shooting in an 83-70 victory over the Sooners on Feb. 23, 1998.
The closest call in the streak was an 82-77 overtime victory over Nebraska on Feb. 1, 1997.
"Raef was great in overtime. He demanded the ball," Robertson said of former NBA power forward LaFrentz, who scored 11 of his 20 points in OT.
"We were challenged from time to time. UMass was a close game too," Robertson added of a 73-71 victory over the Minutemen on Dec. 10, 1997. "I remember Billy (Thomas) and how well he played that game," Robertson added of the Shreveport, La., three-point bomber, who had 21 points.
The streak — engineered by coach Roy Williams — ended in shocking fashion.
Iowa of the Big Ten Conference erased an 18-point deficit in the final 12:50 to stun KU amid a barrage of three-point baskets. The Hawkeyes were the first team to beat KU at home since Missouri, which won, 81-74, on Feb. 20, 1994.
"We played great 32 minutes and poorly eight minutes," Robertson said. "It was mostly our fault, but give them credit. Iowa had a great performance."
Chenowith says he's haunted by that game.
"It hurt a lot when we lost. It still hurts to this day," Chenowith said. "I saw (Iowa's) Jacob Jaacks this summer. It was hard to warm up to him, to be honest. He said, 'I know how much that game meant to you guys.' I tried to beat him at pool, shuffleboard, to get even," Chenowith added with a laugh.
Yes, there was some pressure to continue the win streak.
"I remember it was a big deal to keep it going, to defend the home court," Robertson said. "The great support we got from the fans ... we wanted to live up to expectations. I'm sure it's a little bit of what UConn is going through," he added of the UConn women's team, which has won 80 consecutive games overall.
"A streak like this ... you go into each game saying you know it's going to end at some point, but let's not let it end tonight. We moved on. We won some games after that."
Robertson has been awed by his alma mater's sustained run of success.
"My fear is we take coach Self for granted," he said of Bill Self, whose Jayhawks are 115-6 at home the past seven-plus seasons and have won six straight league titles as well as a national title.
"Six conference titles in a row ... people don't realize how impressive that is. We've gone through one of the most incredible stretches in school history. I hope people enjoy the ride," Robertson added.
Noted Chenowith: "I'm so proud of what coach Self and the players are doing. The success coach Self has had is amazing. The way he's done it ... he's lived by the traditions and reached out to the former players. When he first got to KU, he sent out a letter to the (former) players and said we're part of the community. He told us to come back whenever we can. I know as a former player I appreciate that. It meant so much to me when we won it all (in 2008). I know it meant a lot to all the former players."
Just as the continuation of this streak means a lot to 'em, too.