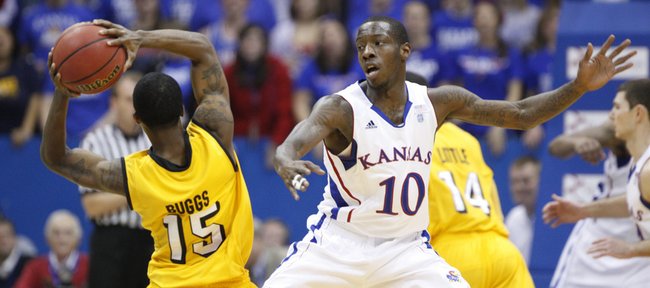 McLemore won't sign, but …
Prize basketball recruit Ben McLemore, a 6-foot-5 senior guard from Oak Hill Academy in Mouth of Wilson, Va., said Monday night he will not sign a letter-of-intent during the early signing period.
However, McLemore, who is Rivals.com's No. 17-rated player, told the Journal-World in a phone interview he will orally commit to either Kansas University or Missouri on Saturday.
At the urging of his mother, he will return to his hometown of St. Louis on Friday to discuss his college options. It's also Thanksgiving break for Oak Hill.
"KU is still the favorite," McLemore said from his dorm room Monday night. "I'll go home Friday and commit to a school Saturday. It's why I'm going home, to talk to my mom and hopefully make a decision."
McLemore had a two-hour phone conversation with his mother Sunday night.
"It's not that reason," McLemore said, asked to comment on rumors his mom won't let him choose the Jayhawks over the Tigers. "We had a good conversation yesterday. She wants me to come home and talk face-to-face with the family (including his uncle)."
Asked if he wanted to attend KU, he said: "It's still up in the air."
McLemore, who had planned to concentrate solely on academics and basketball second semester, was asked if it was difficult not to sign in the early period, which concludes Wednesday.
"A little bit," he said. "I'll be OK. All the seniors who have signed, I'll congratulate them. I will not be mad. I would like to sign, but I'll be able to handle doing it this way."
Tharpe official
KU on Monday announced the signing of Naadir Tharpe, a 6-foot senior point guard from Brewster Academy in Wolfeboro, N.H.
Tharpe, who is Rivals.com's No. 91-rated player, had signed his letter-of-intent Wednesday, the first day of the weeklong signing period. He chose KU over Oklahoma, Minnesota, St. John's, UCLA, North Carolina State and others.
"We are all very excited about Naadir. We feel so fortunate that we were able to sign him," KU coach Bill Self said. "Even though we got involved recruiting him late, we saw him play a ton over the last couple of summers. He reminds me so much of Aaron Miles. He's a good, solid point guard, quick, athletic and has become a very good shooter. I really believe he will be a great addition to our program."
Tharpe averaged 13 points and six assists a game last season for 35-5 national prep champion Brewster, then had a big spring and summer competing for the New England Playaz AAU team.
Originally from Worcester, Mass., Tharpe was a standout at St. Peter-Marian High before heading to Brewster two years ago.
"He comes out of a program at Brewster, much like we got with Tyshawn Taylor, in that Brewster won the national championship last year like Tyshawn's team did his senior year at Saint Anthony's," Self said. "To have two players in our program that have won national championships will be great for us.
"(Brewster coach) Jason Smith is one of the best coaches out there and to have another young man out of his program is great for us as Thomas Robinson was Naadir's teammate during Naadir's sophomore season," Self noted. "Naadir is a true point guard, and the better players you have around him, the better he will play."
On the bench
Sophomore Elijah Johnson did not play Monday. He has been held out of the first two games for disciplinary reasons. Self said he believed Johnson would play in Friday's game against North Texas. … Self said there was no update on Josh Selby's eligibility case, only indicating he felt the NCAA would be deciding upon the matter "soon."
Stats, facts
Tyrel Reed's three threes moved him ahead of Paul Pierce on KU's all-time three-point list. Reed is 16th in school history with 109. … Valpo's 17 second-half points were fewest by a foe since Alcorn State scored 12 in the first half on Dec. 2, 2009.
More like this story on KUsports.com