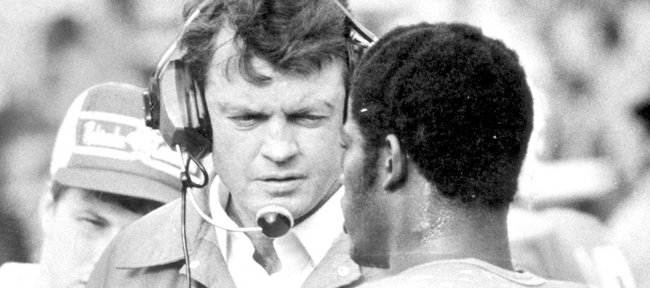 Sometime Monday afternoon, Nebraska athletic director Tom Osborne reached out to Kansas University football coach Turner Gill by telephone.
Osborne's attempt to chat up his former quarterback was not uncommon. Throughout the years the two have built a bond that seems to be just one step below family and certainly is as strong as any that exists between a former player and his coach.
On top of coming down from the emotional high of last week's comeback victory against Colorado and digging in to face No. 9 Nebraska at 6 p.m. Saturday, Gill had his plate full Monday and was unable to answer Osborne's call.
Too bad, too. Because this week there's no guarantee that another one is coming. Even as close as they are — Osborne, the former Nebraska coach, and Gill, the former NU star — the two will face off as adversaries for the first time this weekend, when Gill leads the Jayhawks onto the field he once called home.
"I'm always glad to see Turner," said Osborne, now Nebraska's athletic director, in anticipation of the meeting. "It will be a little different, but competition is competition. You can have competition without animosity. Sometimes you have the best boxing matches with your brother. You try to beat them, but when it's over, it's over."
Asked whether he'd be rooting for Gill in any way Saturday, Osborne stayed true to the Cornhuskers.
"I wish him well," he said. "I hope I get to say hello to him. We will always be good friends no matter what happens, but, naturally, we would like to see Nebraska play very well on Saturday because that's the school I represent. So that will be an interesting circumstance, and I am certainly glad that we won't be playing him after this, at least for a long time, because it is a little bit of an awkward situation."
Awkward's one word for it. Emotional is another. Though Gill was somewhat vague when discussing his first matchup with his alma mater as an opposing coach, a few folks close to him were happy to speculate what must be going through his mind.
"I'm sure he's going to have some emotions going into this game," KU offensive coordinator Chuck Long said. "We'll never see 'em, but I'm sure there'll be maybe an extra jump in his step going into the game. I'm sure it's gonna hit him when he walks on the field in front of those fans. It's been awhile since he's done that, and I know it's gonna probably send a wave of emotion to him."
KU defensive coordinator Carl Torbush said the sentimental aspect of returning to a place where Gill led the Cornhuskers to three consecutive Big Eight titles and finished with a 28-2 record in three seasons as a starter, including a 20-0 mark in conference play, was warranted.
"He's beloved because of the type of person Turner is," Torbush said. "But you've gotta realize they won a few ballgames while he was playing quarterback there, too. Like all of them."
Though Gill has had a rough start at Kansas — the Jayhawks are 3-6 overall and 1-4 in Big 12 play, where they have been outscored 232-92 — Osborne has been openly vocal with his support. Though he's hoping that his Huskers will be the next team to hand KU a loss, Osborne's support has not wavered this week.
"I think Turner is very sound philosophically and knows what he wants to do, and he knows who he is," Osborne said. "And I have great admiration for him as a person. I think a lot of people don't realize how difficult it is to come in with a group of players that don't know you, and you don't know them and a coaching staff that is diverse and is not well acquainted, and you (have) to get that all put together. I see them making progress. I think they are, right now, a team that can give almost anyone a decent ball game. Certainly their last quarter last week is going to give them confidence, everybody knows that. I think he's doing fine."
Mecham ready to roll
With the keys to the KU offense firmly in his possession, junior quarterback Quinn Mecham appears to be carrying himself in the exact same manner he has during the past couple of weeks.
Thrust into action against Texas A&M; because of injuries to first- and second-string QBs Jordan Webb and Kale Pick, Mecham has taken charge of the KU offense and led the team new heights.
After competing for the starting spot throughout each of the last two weeks, Mecham learned early this week he would be the guy.
Asked after Wednesday's practice if he was intimidated by the thought of making his third career start at Nebraska's fabled Memorial Stadium, Mecham offered a glimpse into what has made him so successful.
"Not really," he said. "I'm just trying to prepare and go in with the gameplan and play our game. You can't go in and psych yourself out because then you're done from the start."
The main thing that seems to have changed for Mecham has been the KU coaching staff's willingness to open up more of the playbook to the junior-college transfer.
Gill said Tuesday that Mecham had picked up more and more in the past few weeks, and the junior QB said the expanded options have helped him feel more comfortable.
"I would say (so), more just because I've had more time in the system and more reps," Mecham said.
Comfortable with his new role, Mecham now is hoping to transfer the 35 unanswered points KU scored in the fourth quarter to beat Colorado into this week's showdown with No. 9 Nebraska.
"I think it's energy that we can use to go out and start fast for once," he said.
Harris prepping KU defense
Already 1-for-1 as a scout-team quarterback this season, KU senior Rod Harris has been asked to repeat the feat this week.
Back in September, Harris did such a masterful job of impersonating Georgia Tech quarterback Josh Nesbitt that the Jayhawks were able to stifle the Yellow Jackets' run game enough to pick up the victory.
For his efforts, Harris was named the offensive "compete team" player of the week.
This week, Harris, 6-foot-0, 211 pounds, has been asked to simulate the skills of Nebraska quarterback Taylor Martinez, 6-1, 205. Though Harris doesn't have quite the same speed that Martinez possesses, the Bryan, Texas, native has done an admirable job.
"I could be a read-option quarterback," Harris said Wednesday. "I have an arm that's not quite an arm. But I think I could definitely do some wildcat. I can't throw, though. Don't let 'em tell you I can throw."
No problem. Although Martinez has had his moments through the air, most of the Nebraska QB's damage has been done on the ground. Simulating the exact speed and specifics of an opposing offense never is easy, but Harris said he was impressed with what he saw from the KU defense this week.
"It's going good," he said. "Actually, today Jake Laptad put a hit on me that I could feel a little bit. I'm gonna have to get some ice on this shoulder. (Tuesday) was a little different just because it's a new scheme we were running, and they had to learn how to react to it. But, (Wednesday), it's like they just picked up on it. I don't think I broke past the line of scrimmage too many times. So they did good. It's a good gameplan by the coaches."
Injury update
Gill said Wednesday night that safety Lubbock Smith would miss Saturday's game at Nebraska.
On Tuesday, Gill called Smith "doubtful" for Saturday's game.
Wednesday, Gill downgraded the sophomore from Dallas to "out" after practice.
Senior Olaitan Oguntodu, who started the first six games of the season at strong safety, will start in Smith's place. Oguntodu will be backed up by red-shirt freshman Prinz Kande.
Spotted in Norman
Jake Trotter, of The Oklahoman, reported that former KU football coach Mark Mangino attended Oklahoma University's practice Wednesday.
Mangino spent three years (1999-2001) on OU coach Bob Stoops' staff in Norman, Okla., before coming to Kansas, and the two have remained good friends.
More like this story on KUsports.com